Remco Evenepoel is back in the country for the first time in 6 weeks, but he was not alone in the arrival hall of Zaventem. The Vuelta winner and world champion was impressed by the hundreds of fans. The first hug was for fiancé Oumi and his parents, then he said goodbye to teammates and coach, spoke briefly with the press and he was gone. Because he has yet to choose a wedding suit.
The Emirates flight landed from Dubai at 1.30 pm, after that it was still a 45-minute wait for the Belgians. Yves Lampaert came out first and flew to son Aloïs. The other Belgian riders and the national coach formed a guard of honor for Remco Evenepoel, who was the last – in his World Cup jersey, with gold around his neck and with a smile – to enter the hall.
He accepted the loud encouragement. He was the first to fall into the arms of his fiancée Oumi, whom he will marry in 2 weeks. Then hugs for mom and dad followed.
The youngster looked tired, but his eyes twinkled. After signing autographs for some children and greetings from family and friends, he worked his way through the photographers and camera crews, taking some time with the press.
I expected something, but not this. It is awesome
Evenepoel always kept its calm and cool in the midst of the chaotic bustle. He answered briefly in Dutch and French. "I expected something, but not this. After this I don't know what to expect on Sunday." Then the 22-year-old van Schepdaal is honored on the Grand Place in Brussels.
He just wanted to go home quickly. But what is he going to do today? "I still have to choose a wedding suit tonight. That will indeed be my first job later. That is even more stressful than Sunday's game. But I let my mother choose everything."
On Tuesday he will show his World Cup jersey in Binche: "That has already been decided on the evening of the World Cup. That jersey will take away a lot of fatigue, purely because of the emotion and the euphoria. That last race of Phil (Gilbert, red) and Iljo ( Keisse, red) will be a special moment."
"But I'm going home now to catch up with the people I haven't seen in a long time." And he was gone. Less than fifteen minutes after his arrival, he stepped up the escalator, accompanied by police and security personnel.
Radio station MNM already treated the world champion to his favorite food at the airport. No tofu or spaghetti, but fries with a viandel.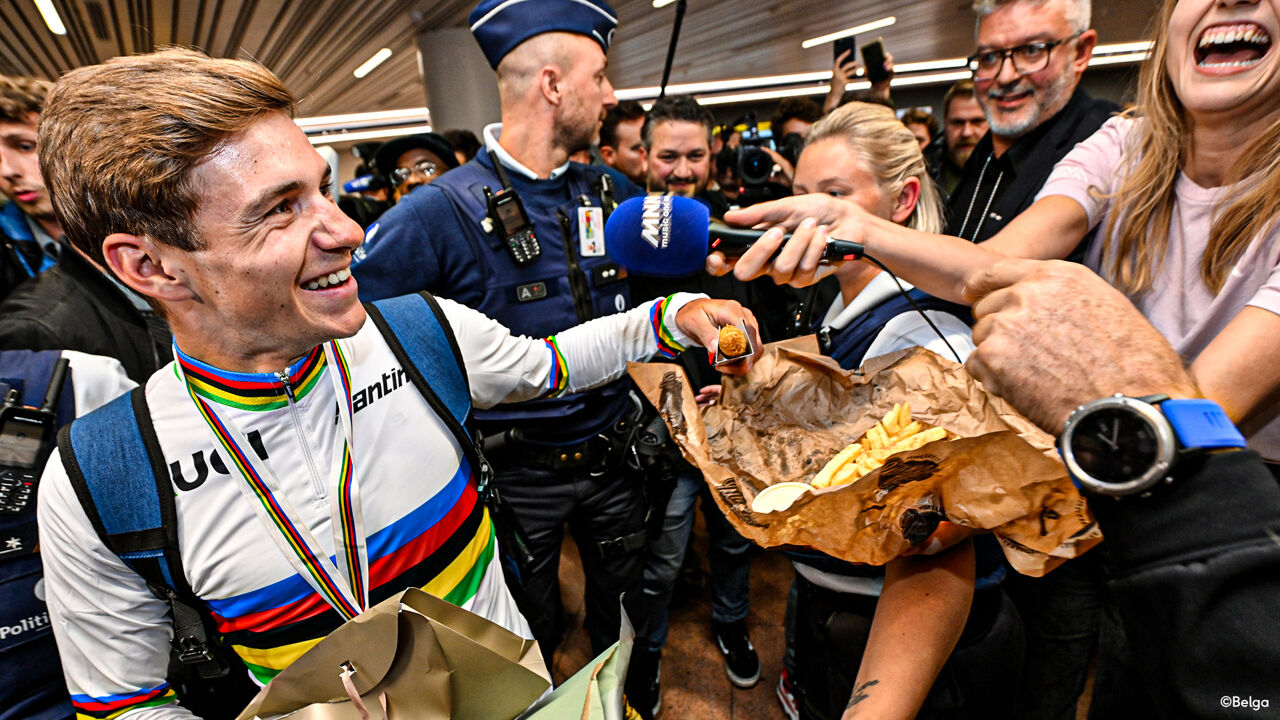 It went to the hometown of Schepdaal, where he also made time to greet the fans in café In de Rustberg.
"I will not say that I am lived, because I have no reason to be negative," said a clearly tired Evenepoel at the new crowd.
"I will let as little as possible come at me this week. I still have to stay in shape for the race in Binche on Tuesday. Another week of discipline and then get married and take a holiday."