Not AA Gent, but Anderlecht misses its competition start. A penalty goal by substitute Hugo Cuypers decided a mediocre topper (0-1) in which the Purple & White youth seemed too blue to hurt the Buffalos.
Anderlecht hadn't won against AA Gent in nine matches, and they could add a tenth. VAR again played a leading role in a game for the Buffalos, but just like last Sunday, there was no need to complain about that. After a hooking error by Amuzu on Hong, Lothar D'Hondt summoned ref Erik Lambrechts to the screen. The penalty was flawlessly converted by Cuypers and would be the only goal in an otherwise closed top game.
AA Gent hooked up with 11 out of 18 just below the top four and thus booked its best start since 2018. Anderlecht, on the other hand, lags behind with only 9 points from six matches. Too little for the ambitions since the arrival of Felice Mazzu, but there was not much more in it. Boys against men, that was the conclusion again after a topper in which Anderlecht mainly had to lose physically. Can last minute newbies solve Vertonghen or Diawara?
Not that Anderlecht were as flat as at Union. But a few setbacks from Sunday had disappeared from the team: Esposito, Raman but also Arnstad. They were replaced by Refaelov, Fabio Silva and Stroeykens. At AA Gent Cuypers, until now always on the field, got a surprising break, as a result of which Hjulsager and Hong played in support of Depoitre.
Although the South Korean is sometimes a bit impetuous in his game, he showed himself the most dangerous in the opening quarter. Mazzu went crazy when Hong was able to run through the ashes just like that, but must have been glad he didn't operate the detached Depoitre and went for his own success. It became a breeze for Van Crombrugge. On a switch after a corner, Hong got another shooting opportunity. This time Kana blocked.
Doelhout brings salvation
Anderlecht found it difficult to impose his will. The ball was for AA Gent, so were the duels. When Amuzu fired his turbo, the hopes of the home crowd rose, but they proved more vain than Kim Kardashian. It seemed to come from Refaelov who has a natural chemistry with Fabio Silva. Once they almost found each other all too often, the Portuguese was in the grip of the Ghent defence. Stroeykens in turn kept up with the ball once, but Murillo aimed his pass in front. The greatest danger for the home team did not come by chance from a restart of the game. Refaelov found Delcroix in the first zone, but his deviation ended up on the outside of the post.
Anderlecht also saved the box, on a fabulously well executed volley by Kums. Bottom of the bar, the rump in front of the line. In the rebound Depoitre scored, also via the bottom of the bar, but the VAR whistled referee Lambrechts rightly: assist giver Hjulsager was just offside at Kums's wattle. Add to that a shot from Odjidja that narrowly missed and that was about it in a closed first half in which the more aggressive Buffalos actually looked sharper.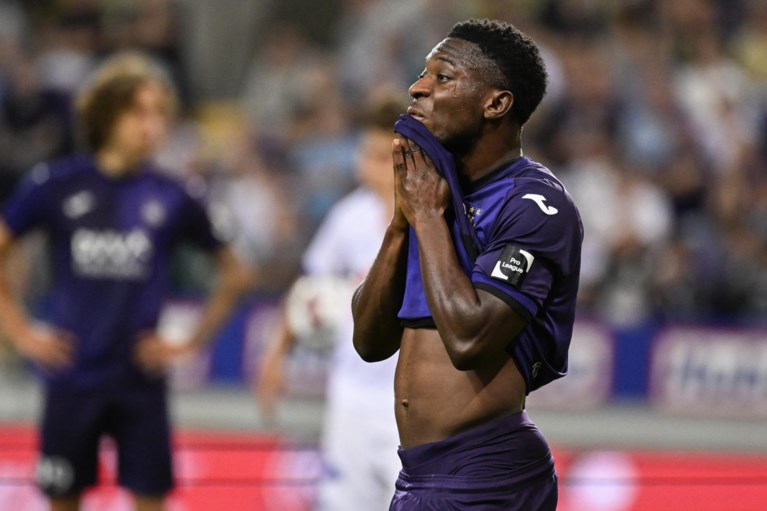 Dure misses Refaelov
Anderlecht seemed to come out of the dressing room sharper. By switching flanks more quickly, they escaped the Ghent pressing a little more, but no real opportunities came from that. It was Van Crombrugge who once again had to save his team, on an attempt by Hjulsager. On the hour, Vanhaezebrouck switched his two spearheads, Hjulsager and Depoitre, even though the latter weighed on the Purple & White defense. Cuypers and the young Salah came in their place.
The goal had to fall on the other side, when Ngadeu went completely wrong on an interception. Refaelov could only approach Roef, but his marker went far past. A strange miss for him, and a very painful one. Two minutes later, AA Gent got the penalty.
Mazzu also threw Esposito and Raman into the fray, but despite a front line of four strikers, there was hardly any question of a heavy final offensive. Only Fabio Silva could threaten, but the Ghent defense actually kept a clean sheet without too much effort, for the first time this season.