Round > Sports
David Guerrero, Marina Becerrera and Isamel Badrezzamanne present the belt won in Sorrento on the Charry TV set // CharryTV
Marina Becerra is proclaimed champion of the Mediterranean and Ismael Badrezzamanne once again impresses his rivals
04 Aug 2022 – 17:04 // Charry TV News
More images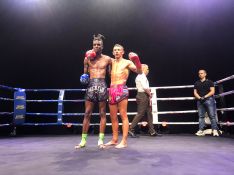 Ismael faced Frenchman Dylan Delpha // Lum King KO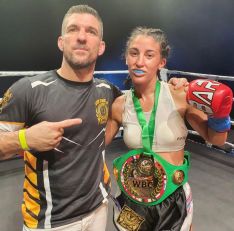 Marina and her coach after defeating the Italian Valeria Gargiulo // Lum King KO
Ronda's Muay Thai school, Lum King KO, is in luck. Two of her young promises, Ismael Badrezzamanne and Marina Becerra, have returned with very good feelings from Sorrento (Italy), where the young athlete has won the WBC Mediterranean belt after winning by KO in the third round against the Italian Valeria Gargiulo .
"You have to have a name at an international level to be able to participate in this type of tournament," says the coach of both athletes, David Guerrero.
Marina is 20 years old and has only been training for four years, but she has won three belts in 14 fights. In addition, she has been champion of Spain twice.
Ismael, 21, has been part of the school for eight years and has accumulated 65 fights. He has also been champion of Spain in all the categories in which he has fought.
As explained by the coach and head of the school, it is easier for Marina to get a belt because there are fewer female athletes. However, Guerrero considers that there are more important things than winning a title:
"I want my athletes to be recognized by the people they have beaten, not by the number of belts they have won because I create athletes, not competitors; and if someone doesn't meet a set of requirements, he can't represent my school. Among those demands is, of course, respect, humility and self-improvement."
Both Marina and Ismael share this philosophy. "I want to compete and achieve something in this sport, but step by step and taking training seriously. In every fight I have to show David that he can trust me", declares the young man.
The creator and manager of Lum King KO recognizes that going far in the world of muay thai is not an easy task. In addition, it is very expensive:
"You have to set up events and bring players from other countries to whom you have to pay travel and stay, plus the bag agreed for the fight. That is, you need between 1,500 and 2,000 euros for each fight. To this, he adds that they need to participate in many fights with European or international rivals, which makes it even more expensive".
However, Guerrero cannot repress the pride he feels for his athletes, whom he loves like his children:
"They are young, good people, they have potential and they work hard for what they deserve that I bet my time and money on them so that they are two recognized athletes in the world of Muay Thai".
New school in September
There is already an opening date for the new school facilities. The new premises of Lum King KO will be located in a warehouse in the industrial estate and will open its doors on September 5.
"After 20 years we needed to go one step further and move to a facility on par with a high-performing school. The new venue is larger and will allow us to train better and be able to create small events that promote the careers of our young athletes".
Meanwhile, its members will continue practicing at the venue on Calle Clavel.