The Grand Prix in Spa-Francorchamps turned into a big Max Verstappen demonstration. The Dutchman almost left the back of the pack, but still steamed to the win in his Red Bull. He once again extends his lead in the World Cup standings, challenger Leclerc was only 6th.
Witte rook in Spa

The GP of Spa-Francorchamps seemed to be one in minor this year. The traditional Grand Prix would fall off the calendar from 2023, the imminent end hung like a thundercloud over the legendary circuit in the Ardennes.
But white smoke followed on Sunday, and it was not due to a car in a gravel box: the F1 organization announced that Spa will still be on the calendar next year. The party was able to break out in full force, more than 100,000 spectators eagerly awaited a new spectacle.
The Orange Legion, again numerous in attendance, saw that their chouchou Max Verstappen had to start from 14th place, due to an engine change. The world champion had made an impression in qualifying with top times, so the podium did not seem out of the question.
Carlos Sainz was the best in qualifying on Saturday and the Spaniard also shot away from pole. Behind him it was more chaotic: Hamilton went into a corner a little too bold and tapped Alonso. The British seven-time world champion's match was over before he had even started.
(read more under the link)
Verstappen flashes from 14 to 1

After a short delay behind the safety car, the race continued. An unleashed Verstappen, smartly started on the soft tires, made an impression and came knocking at the front in no time. Leclerc, who started just behind Verstappen, had more trouble making the leap forward.
The Red Bulls stuck behind leader Sainz's Ferrari, and after Perez let Verstappen pass, the duel at the front could really start. But it soon turned out that there was no question of a duel: Verstappen had much more speed and did not even have to go full out to conquer the leading position. From 14 to 1: Max's masterclass was impressive.
Not much later, Perez also passed Sainz, Red Bull was able to check calmly. Charles Leclerc, second in the World Cup standings, did not go as well. His Ferrari lacked the speed to compete for the marbles, he would eventually finish sixth after another penalty.
Nothing could be done about Verstappen. With his 9th win of the season, he is already taking a big option for a second world title. "The question is not whether he will become world champion, but when," said Sammy Neyrinck. Few still doubt that.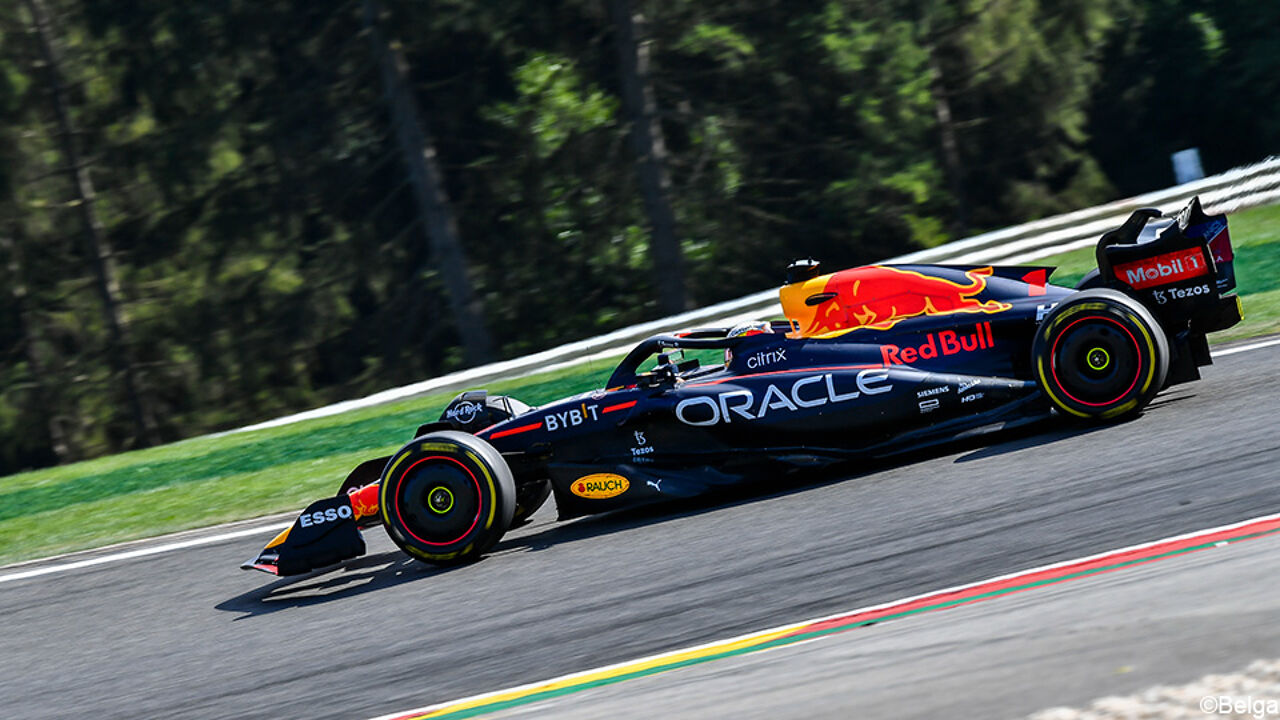 Verstappen: "An incredible weekend for us"

Max Verstappen (1e): "It was a fairly hectic first lap, so it was also difficult to make up the ground. But when we were able to find our place after the safety car, things got better. The car was very good today and I made the right choices to get other cars to overtake. When I was able to take the lead it was a matter of control. This whole weekend has been incredible for us, I couldn't hope for better."
Sergio Perez (2nd): "Today was a good chance for me, so I was hoping for more, but Max just flew. Anyway, it's an excellent result for the team, we were able to collect a lot of points. It was a bit of chaos in the opening lap, I had a bad start, but was able to make up for it in turn five."
Carlos Sainz (3e): "It was more difficult than expected. We had a good start and a good restart, but we just didn't have the speed. Our tires overheated quickly, we didn't have the right package this weekend, but okay, we'll get a podium in the end Red Bull was on a different level today. Next week in Zandvoort the circuit should suit us better."
Belgian GP result:
1.
Max Verstappen (Ned/Red Bull)
2.
Sergio Perez (Mex/Red Bull)
3.
Carlos Sainz (Spa/Ferrari)
4.
George Russell (GBr/Mercedes)
5.
Fernando Alonso (Spa/Alpine)
6.
Charles Leclerc (Mon/Ferrari)
7.
Esteban Ocon (From/Alpine)
8.
Sebastian Vettel (Dui/Aston Martin)
9.
Pierre Gasly (Fr/Alpha Tauri)
10.
Alexander Albon (Tha/Williams)
11.
Lance Stroll (Can/Aston Martin)
12.
Lando Norris (GBr/McLaren)
13.
Yuki Tsunoda (Jap/Alpha Tauri)
14.
Zhou Guanyu (Chn/Alfa Romeo)
15.
Daniel Ricciardo (Aus/McLaren)
16.
Kevin Magnussen (Den/Haas)
17.
Mick Schumacher (Dui/Haas)
18.
Nicholas Latifi (Can/Williams)