Saori Miyazaki (left) and Nako Motohashi (right) leading the team as guards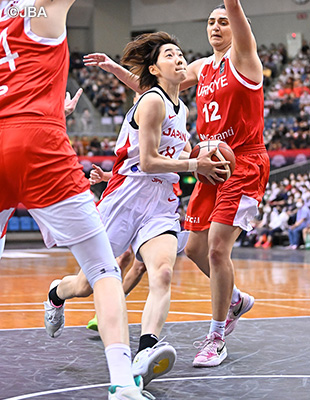 Sakura Noguchi outruns a big overseas opponent with a drive
It will be held at Xebio Arena Sendai on August 11th (Thursday) and 12th (Friday)"Mitsui Fudosan Cup 2022 (Miyagi Tournament)"Here are some comments from the Japanese women's national team players.
■ Nako Motohashi (Tokyo Haneda Vickies)
It's a valuable match to be able to do in front of everyone in Japan. I will do my best to show the high accuracy and agility of basketball that we have been training camps for since May.
I would like to aim for shots without missing a momentary chance, but I feel that I am not able to do so at the moment. I want to be able to judge the situation well and not miss the opportunity to play in the match. Also, there are a lot of plays that start at the point guard and the center, so I want to be able to lead there as well. .
I've heard that Latvia's outer corner players have a high probability of 3-point shots. Even during practice, the shooters are strictly checked, and we are trying to stop them until the end, so I want to express that.
■ Saori Miyazaki (ENEOS Sunflowers)
I heard that Latvia has a big player, so I think it will be a good tournament where I can make use of my experience so far, such as succeeding in the finishing drills that I have been practicing. We want to be able to produce our signature "waku waku basket" in Sendai.
The point guard is a fierce competition, so it's been a tough situation every day at every training camp. However, being able to raise each other up and improve through friendly rivalry is a plus for me. Even if I'm not feeling well, I think that if there are other players who are doing well, the team will head in a good direction. If you compare yourself to someone else, the selection period will be really painful. If other point guards play well, I try to be happy to absorb them.
Sakura Noguchi (Chanson Cosmetics Chanson V Magic)
What is required of this team is an aggressive defense and drive that makes use of speed, so I want to be able to demonstrate that when I go out on the court.
Not only Latvia, but there are many overseas players on teams that are bigger than ours, so as a center, I have the feeling that I will not be able to get rebounds easily than anyone else.
During the training camp, I challenged what I practiced with scrimmage, etc., and practiced further while clarifying what I did well and what I lacked. By practicing repeatedly so that I can do what I can't do, I have learned a lot about myself.