Stephanie, who raises the atmosphere of the team as she plays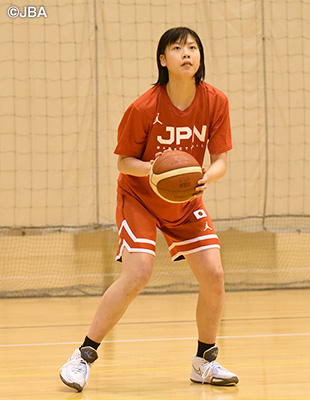 18-year-old Azusa Asahina made the roster for her second Mitsui Fudosan Cup
It will be held at Xebio Arena Sendai on August 11th (Thursday) and 12th (Friday)"Mitsui Fudosan Cup 2022 (Miyagi Tournament)"Here are some comments from the Japanese women's national team players.
■ Sunflower Ako (Denso Iris)
It will be the last match in Japan before the FIBA ​​Women's World Cup. I want to play good Japanese basketball and play basketball that fans can enjoy. I would like to enter the tournament in good condition so that I can connect to the next match.
At the time of the Tokyo 2020 Olympics last year, I was of the younger generation, and I felt like an underling just following my seniors. After that, I played in the FIBA ​​Women's Asian Cup as a young player, and it was a tournament that made me realize once again how grateful and amazing my seniors are. Now that juniors have joined us, we are in an intermediate position, but in terms of experience, we are also in a higher position. While being overwhelmed by the momentum and youth of the juniors, we are working with the feeling that we want to demonstrate our strengths.
■ Horse Cucumber Stephanie (Toyota Motor Antelopes)
I played in the FIBA ​​3×3 World Cup (held in June this year), so I'm happy to be able to play in the 5-a-side match against Japan for the first time in a while. I want to play with responsibility as a member of the Japan national team so that I can show what I have been practicing at the training camp.
I participated in the Tokyo 2020 Olympics as a member of the Japan Women's 3 x 3 Team, but now I'm getting used to the environment of the Japan 5-a-side team, committing myself to the team and playing in my own way. I joined the team late (because I was participating in the FIBA ​​3×3 World Cup), but I feel that I have to play responsibly. As was the case with the Olympics, each match is important. It's been difficult for us to play matches against overseas teams, so I want to play hard so that this Mitsui Fudosan Cup won't go to waste.
■ Azusa Asahina (1st year, University of Tsukuba)
This year, I am participating in the Japan national team for the first time.
At the Mitsui Fudosan Cup, I want to contribute to the team through defense without being physically defeated by big opponents in the world. I think that my strength lies in my ability to adapt to other players' drives and the screen, so I want to be able to show them how to create solid movements. I want to show what I can do and show what I can do for the Japan national team at my age (18 years old) by playing to surprise my seniors so that I can be among the 12 players who can participate in the FIBA ​​Women's World Cup.
But I still have a lot to learn from other seniors, and I want to grow even more. The level is very high even during practice, and there are many things I didn't know, such as tactics, even though I've played basketball until now. Because I have actually experienced this level, I feel that I am lacking, so I would like to absorb a lot from my seniors.