Yutaro Suda (right) and Yudai Nishida (left) and other Asian Cup members lead the team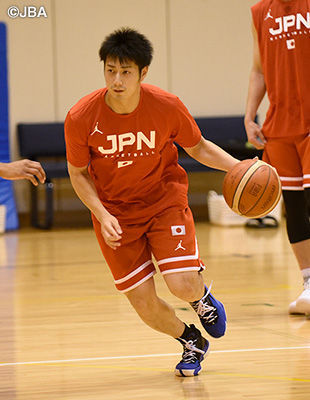 Ryo Terashima, who has regained his game instincts and is showing his true potential
It will be held at Xebio Arena Sendai on August 13th (Sat) and 14th (Sun)."SoftBank Cup 2022"Towards, we introduce comment of men's representative from Japan. Additional tickets on sale.
■ Ryo Terashima (Hiroshima Dragonflies)
After the B League season ended, I hadn't had a chance to get a feel for the game, but at this training camp, I practiced with people and regained my 5on5 game instincts. In the match against Iran, I want to do my best so that I can show my full potential.
Everyone knows that Japan has no choice but to use their feet to win in international matches. I want to move my feet more firmly than I did in the B League and toss the opponents. My greatest strength is my speed, so I want to make the most of that and see how well I can compete in Iran.
■ Yutaro Suda (Nagoya Diamond Dolphins)
As a team, we lost to Iran in the Asian Cup, and it was a disappointing experience for us, so we want to play with a sense of revenge. The members have changed since then, but it's important to have actual matches so that we can become a better team as soon as possible. I want to make it a match where we can build up as a team, valuing each and every play.
The members who participated in the Asian Cup will be the base of this team. One of the roles of the Asian Cup members is to embody what they have built up so far during practice. A lot of communication is born in that, but there are two roles that the Asian Cup members are taking the initiative to improve as a team as soon as possible.
In addition to the Asian Cup members, there are many players who have experienced the Olympics and overseas this time. If we can come together as a team in terms of talent, I feel that we can build on what we built up last time. I want to grow it as a team as soon as possible.
■ Yudai Nishida (Seahorse Mikawa)
There will be three matches against Iran this month, including the SoftBank Cup and the FIBA ​​World Cup Asian Qualifiers Window4 (hereinafter referred to as Window4). I want to overcome the things we didn't do well in the Asian Cup and make sure I can show them well. I think Iran will put a lot of effort into the away games at Window 4, as they have a stake in the FIBA ​​World Cup. As head coach Tom (Horvath) always says, I want to fight hard so that I won't lose.
Compared to the very first training camp that started last year, the number of set-pieces has decreased considerably. Even in the freelance offense, there are more opportunities to attack with a common understanding as a team. It's the same for the Asian Cup, but I think that the fact that we've been training with the same players for a long time has given rise to such plays. The Asian Cup members are especially able to play with a common understanding.