region
[원주치악배 오픈 배드민턴대회]Wonju-si's first national-scale competition for the 8th popular election
Reporter Seol-Young Kim snow0@kwnews.co.kr

2022-08-07 15:08:08

Mayor Won Kang-soo, head of body sports center Lee Soo-young, etc.

The 17th Wonju Chiakbae Open Badminton Tournament was the first large-scale sports competition held in Wonju since the launch of the 8th popular election, and announced the healthy city of Wonju to the whole country.
The opening ceremony held at Chiak Gymnasium on the 6th was attended by many domestic and foreign guests to congratulate the successful hosting of the competition. Wonju Mayor Won Kang-su, Gangwon Ilbo Youngseo General Manager Hwang Hyeong-joo, Wonju Sports Council President Lee Su-young and Dobadminton Association President Ahn Chang-gyu, Wonju City Badminton Association Chairman Kim Dong-ha and Suh Seong-su advisor, and 18 city and county badminton association presidents gathered from all over the country through prize draws and congratulatory speeches. I wished the badminton fans good luck.
In particular, Mayor Won Kang-soo and Gangwon Ilbo Youngseo General Manager Hwang Hyeong-joo introduced the must-eat foods when visiting Wonju and warmed the atmosphere with a witty congratulatory message to revitalize the local business district. Won mayor said, "There are three representative dishes of Wonju," and "I want you to try one of dumplings, kalguksu, and horse meat." Then Governor Hwang said, "I found out that the market has a different taste. If you come to Wonju, you should try Chueotang. You must eat," he said, making the attendees laugh.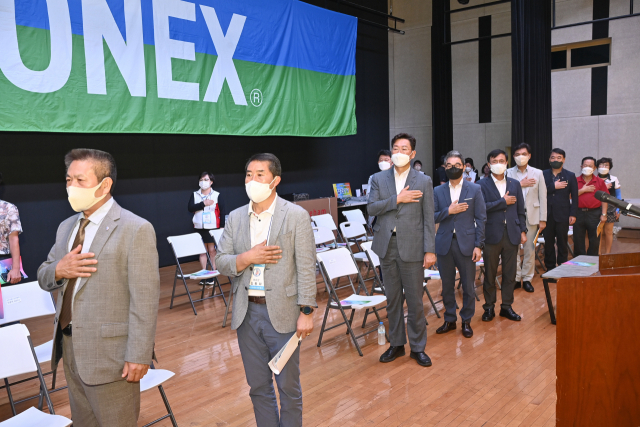 Reporter Seol-Young Kim snow0@kwnews.co.kr

2022-08-07 15:08:08