The player could earn 20 million gross a year if he gets the variables, which are four million
He keeps 50% of a possible transfer or if a club decides to pay his termination clause
In mid-July one of the bombs in the football market jumped. After intense months of negotiations, controversies, strips, laziness, misunderstandings, Ousmane Dembélé renewed by the FC Barcelona.
Six months had already passed, a time when it seemed that the Barça club had definitively lost the 'Mosquito'. When everyone came to believe that the Frenchman had a pre-contract signed with another club (since January 1 of this year, FIFA legislation allowed it), the reality was very different and what could not be from January to June, became a reality when Dembélé was already a free agent.
THE DEMBÉLÉ PARTY
Dembélé's renewal was celebrated in style, as if it were a new signing, at the Ciutat Esportiva Joan Gamper. Joan Laporta, Mateu Alemany (who had been very tough on him in January) and the player's agent, Moussa Sissoko, accompanied the player. However, there was no press conference, there were no statements and the only thing that transpired was two things. One, that he had renewed for two years. Another, that the termination clause would be 100 million euros according to Alemany. Different sources, however, claim that it is 50 million.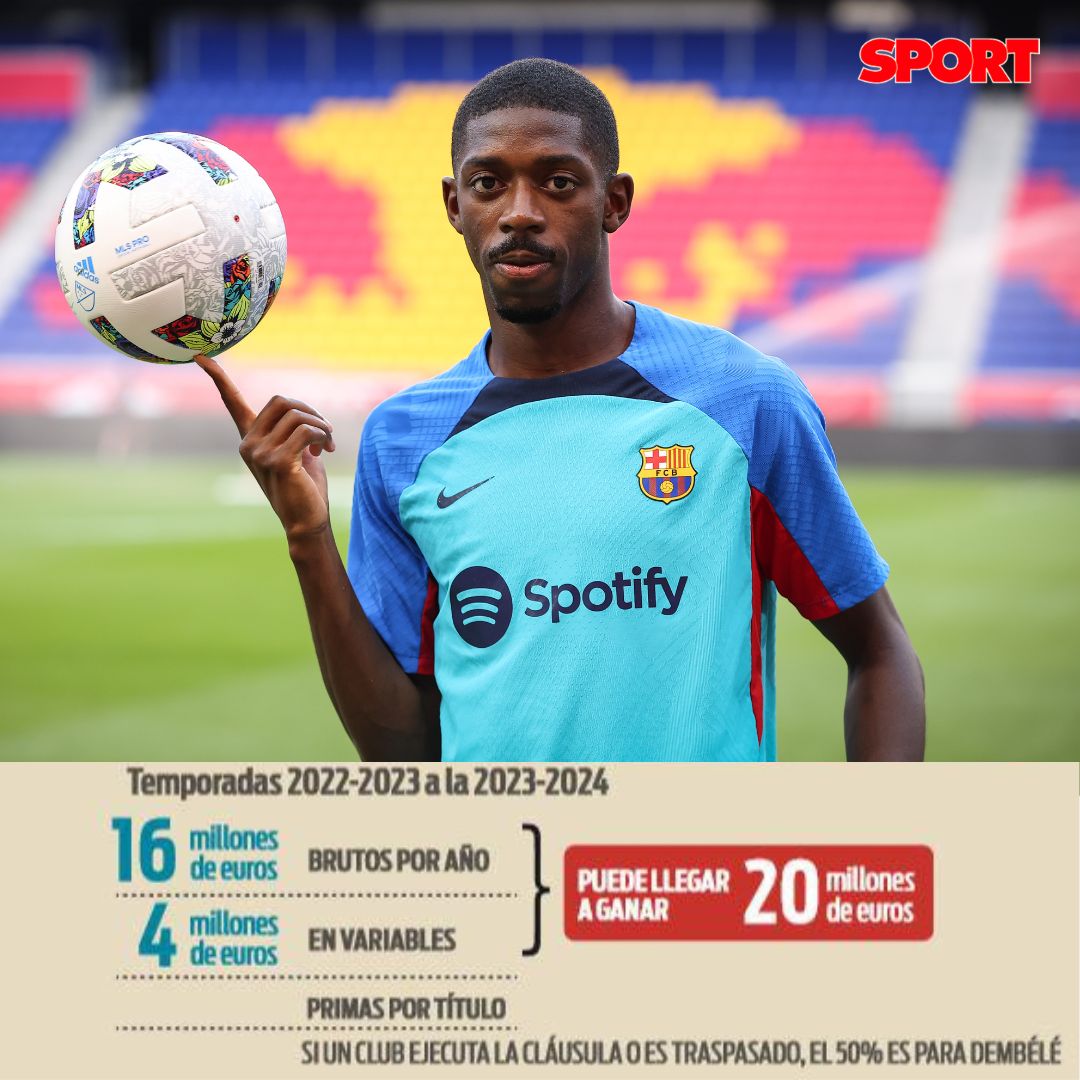 It was very striking that the renewal was for so few seasons, only two, but in the end it is the result of a negotiating strategy that should have benefited both parties, otherwise no agreement would have been reached.
In certain areas it is ensured that if Dembélé gave the "yes I want" to Barça it was because in reality he did not have clubs that would pay him what his representative asked for. There was talk of PSG, Juventus, Chelsea and even Manchester United. It may be, but of course the French winger, world champion, has remained one of the highest paid players in the squad.
DEMBÉLÉ'S SALARY
Ousmane will receive 16 million fixed gross euros each of the 22-23 and 23-24 seasons. In addition, it has 4 million euros more each year for different variables that, apparently, are easily achieved. In summary, Dembélé could enter 20 million euros gross per season40 in the two years that in principle must remain at the Camp Nou.
As of June 30, 2024, he will be free and as of January 1 of that year, as has already happened this season, he could commit to another club. If before that time there is someone who pays his termination clause, Dembélé would take 50% of that amount.
The Frenchman, in his first contract with FC Barcelona, ​​had a fixed annual amount plus a 'signing bonus' of three million euros during the first seasons, as well as an economic prize for titles won. For five years Dembélé dressed as a Blaugrana has won two leagues, two Copa del Reys and a Spanish Super Cup. A time marked by injuries… that he seems to have left behind.