Thank you for your continuous support.
The "SALA Group Presents San-en Neo-Phoenix Basketball Experience Event" sponsored by our official partner SALA Group was held on Saturday, July 30th at the SALA Green Arena in Hamamatsu City.
This hands-on event was held jointly by Sala Group and San-en Neophoenix as part of their contribution to the local community, with the aim of creating opportunities for children to experience sports.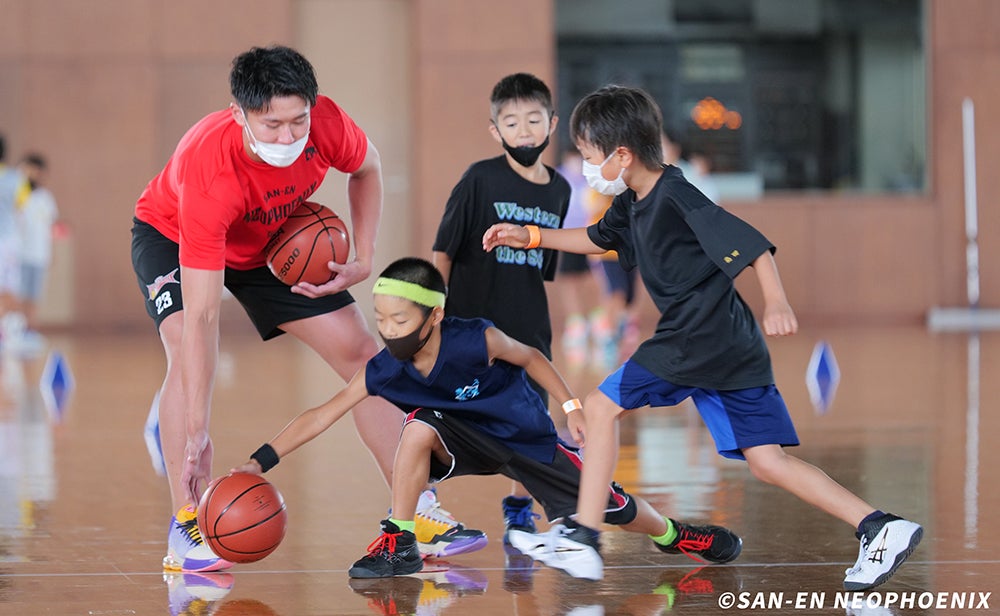 Basketball trial session overview
organizer
SALA Group, Sanen Neophoenix
subject
105 elementary school students
(55 students in grades 1-3, 50 students in grades 4-6)
Date and time
July 30, 2022 (Earth)
・Elementary school 1st to 3rd grade course → 10:00 to 11:10
・Elementary school 4th-6th grade course → 11:20-12:30
venue
sala green arena
main arena
(3071-1 Hiraguchi, Hamakita Ward, Hamamatsu City, Shizuoka Prefecture)
Teacher
■#23 Ryota Hanzawa
profile
Position: PG/SG (point guard/shooting guard)
Birthplace: Fukushima Prefecture
Alma mater: University of Tsukuba
Date of Birth: January 10, 2000
Career
2018 Fukushima Firebonds Special Designated Player
2021 Fukushima Firebonds Special Designated Player
2021- Sanen Neophoenix
Representative career
2017 The 25th Japan-Korea-China Junior Exchange Tournament Japan National Players
2017 72nd National Athletic Meet Basketball Boy Basketball Fukushima Prefecture Representative
2017 Japan Men's National Team 40th William Jones Cup Japan national team candidate
2018 FIBA ​​U18 Asian Championship 2018 Japan national team players
■ #24 Takashige Sasaki
profile
Position: PG/SG (point guard/shooting guard)
Birthplace: Yamaguchi Prefecture
Alma mater: Tenri University
Date of birth: May 2, 1996
Career
2018-19 Osaka Evessa Special Designation
2019-22 Kumamoto Volters
2022- Sanen Neophoenix
■ Kamienoo Miyui Coach
player career
Sakuragaoka High School
Niigata Albirex BB Rabbits (WJBL)
Haneda Vickies (WJBL)
Teaching career
Sanen Neophoenix School Coach
■ Coach Inoue Megumi
player career
Eimei High School (Kagawa Prefecture)
National Institute of Fitness and Sports in Kanoya
Niigata Albirex BB Rabbits (WJBL)
Teaching career
Eimei High School Support Coach
Sanen Neophoenix School Coach