With Amadou Onana, another young Belgian is about to make a nice transfer. West Ham has made an offer of no less than 40 million euros for the 20-year-old midfielder from Lille, but Everton and Leicester are also said to be lurking. Is Onana worth that price tag? Sporza listened to football commentator Sirik Geffray, who follows the Ligue 1 closely.
According to various English media, the deal between Lille and West Ham has already been settled, although there is also talk that Amadou Onana himself has set his sights on Everton. Wherever the young Belgian ends up, it is certain that there is a hefty price tag on his head.
"Last week the chairman of Lille had already refused an offer of 30 million euros. I was already shocked by that," admits Sirik Geffray. "Lille has gambled a bit. There is also interest from Everton and Leicester. Now West Ham has apparently offered 40 million euros. That surprised me."
"40 million euros, that is a huge amount for the footballer Onana. Especially if you know that Renato Sanches, by far the best footballer in Lille, is about to move to PSG for 15 million euros. 15 million for a Portuguese international versus 40 million for a Belgian with one cap: that's a huge difference."
Based on last season, I would say he is not worth €40m, but English clubs are mainly looking at the potential.
Is Onana worth that price tag? "Who am I to judge that," Geffray said. "The fact that there is interest from various English clubs is of course significant. Onana is also only 20 years old. That also plays a role."
"Based on his performance last season, I would say he is not worth it, but those English clubs are mainly looking at the potential and the possible resale value."
"Whether that 40 million is the right amount is the eternal question. Clubs from the English middle bracket also take a bit of a gamble. If Onana performs well, they will be happy. If he does well, they can take him with 20 or 30 million euros profit to clubs like Chelsea, Liverpool or Manchester City."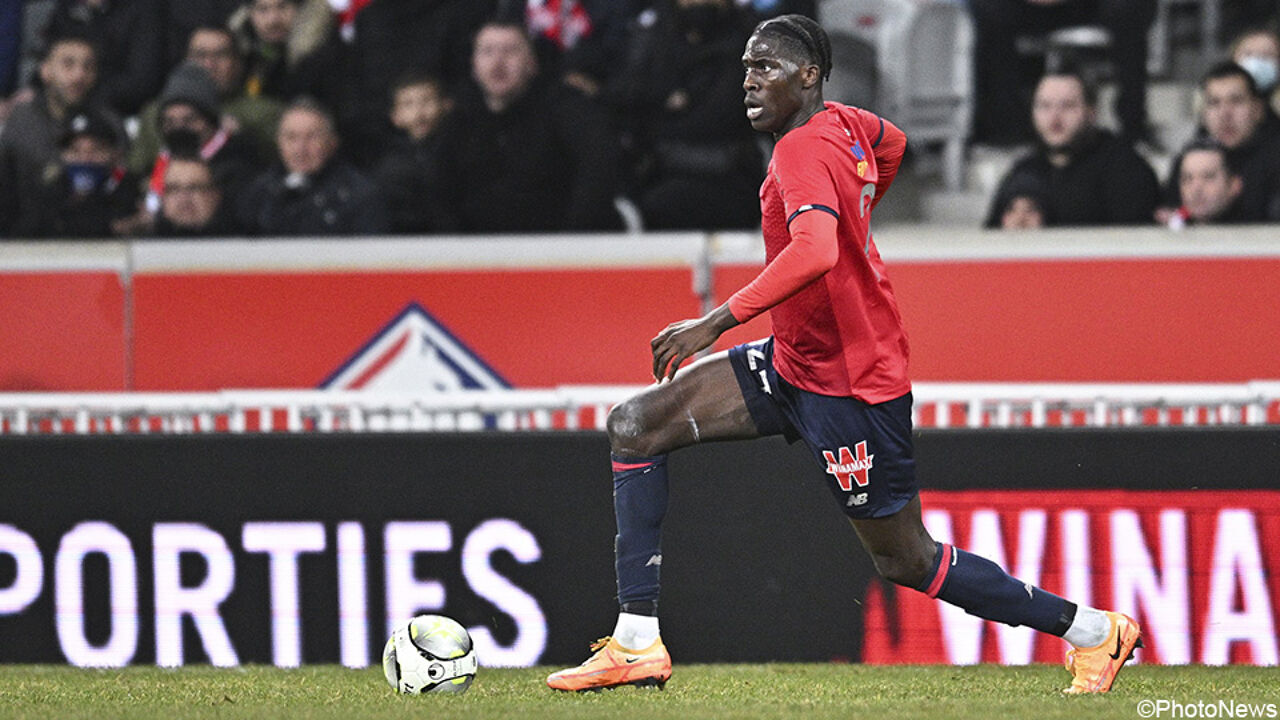 Amadou Onana
"Onana still has a lot of progress to make in football"

Still striking: 2 years ago Amadou Onana still played in the German 2nd division at Hamburg. Now he faces a million-dollar transfer to the Premier League. It goes fast, very fast.
"Onana does have a profile that English clubs love," Sirik Geffray said. "Certainly clubs like West Ham, Everton or Leicester City. He is an athletic boy, with a huge running capacity, who is strong in the duels."
"He is a kind of Marouane Fellaini: entering into duels, winning headers and a large radius of action. The clubs under the absolute top in England all have such a type of footballer in their team."
In England, Amadou Onana will have to make the step to become a basic player and to render every week.
Yet it remains an enormous amount for a player who was not an undisputed holder at Lille last season. "He was really not a basic player. He has only completed the 90 minutes 6 times. In England he will have to make the step to become a basic player and return every week."
"He will also have to make a lot of progress in football. That was noticeable in the top matches at Lille last season. A transfer to England will certainly boost his career, but the moment of truth will come then. I'm really curious how he's going to do there."