The current Barça player posted a story that talks about the "truth"
Umtiti is one of the priority departures for Barça this summer
the output of Samuel Umtiti It is one of the most priority for FC Barcelona this summer but, at the moment, nothing is specified. Rennes was very close to signing him, but it didn't happen and the Frenchman is still a footballer for FC Barcelona.
Despite the fact that he continues to train with the Barça first team, Umtiti It is not part of Xavi Hernández's plans and this has been demonstrated in the first squad list of the season, in which the Frenchman's name does not appear, with permission from the club to find a team to play for next season.
In this process, the French have spoken. In an Instagram story posted on his personal profile, after two training photos with the Barça shirt, Umtiti has posted a photo with a phrase from a rather philosophical profile.
"When the lie takes the elevator, the truth takes the stairs, it takes longer, but it always ends up arriving"is the phrase that Umtiti has chosen.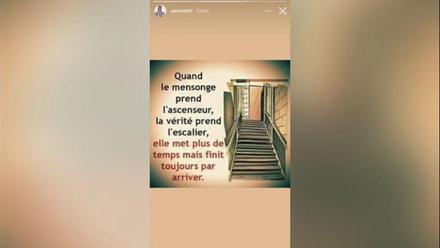 The last precedent for an action of this caliber by a Barça player during a complicated moment in terms of his contractual situations was the story with a similar phrase that he posted Ousmane Dembele in January this year: "Surely love is a variant of blackmail"wrote on that occasion the also French player, currently without a contract with Barça but with an agreement reached to sign it.