Baloise Belgium Tour: Rit 3
Individual time trial
11.8 km
14h17: Scherpenheuvel – 4.59 pm: Scherpenheuvel
end
In Scherpenheuvel, Yves Lampaert (Quick Step-Alpha Vinyl) has crowned himself the winner of the short time trial in the Baloise Belgium Tour. The Dane Mads Pedersen (Trek-Segafredo) finished 2nd and retains the leader's jersey.
Look here for a summary of the 3 best time trialists today

Yves Lampaert dominates in Scherpenheuvel

In a short time trial in and around Scherpenheuvel, it looked like a stage that would have to be fought between the classification men.
Still, it seemed for a while that no one could beat the top time of young Dutchman Daan Hoole. The Trek-Segafredo rider quickly set a target time where almost all riders broke their positions.
So almost all riders. Only Yves Lampaert and Mads Pedersen managed to dive under Hoole's time. Lampaert did that with a blistering time trial and crossed the finish line 10 seconds faster. Mads Pedersen – the leader in the standings – came to the intermediate point one second behind Lampaert and ensured a nerve-racking denouement.
In the end, the Dane had to recognize his superior in Lampaert. He finished in six seconds and was second. He remains the leader in the general classification. Daan Hoole finishes nicely in 3rd place.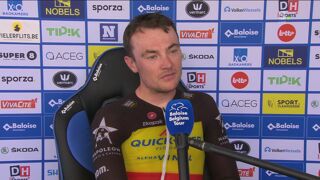 Yves Lampaert: "This victory gives a boost with a view to the Tour"

"Mads Pedersen is fully preparing for the Tour, so he was a formidable opponent today. It's great that I can beat him today. I can do my Belgian champion's jersey again today."
"Whether I am already certain of participating in the Tour? Not that, but I think this victory can give me a boost. I would in any case be very happy to be there. can show in the prologue in Copenhagen."
"Tomorrow it will be a very tough ride. As a team, we mustn't overdo it. Maybe something is possible with Schmid and Sénéchal, but Mads Pedersen certainly seems to be in great shape. Obviously it will be anything but"
"Whether corona is being discussed again in the peloton? Surely everyone wants to be healthy at the start in Denmark. We will have to apply the measures even more. With regret in the heart you have to distance yourself from the fans. "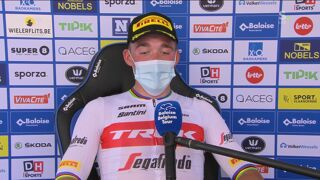 Mads Pedersen: "Losing Yves is no shame"

"I am satisfied with this result. I knew that there were fast guys riding today. Losing Yves is no shame."
"I've been practicing a lot of time trial lately and paying close attention to my position on the bike. So today was a perfect exercise with a view to the Tour"
"Tomorrow it will be a very tough stage, especially because of the heat. I normally suffer from that. Tomorrow it could therefore mean the end of my leading position. At the moment I am just very happy. I already have a first, second and third place."
Yves Lampaert holds out, Pedersen strands at 6 seconds

Belgian time trial champion Yves Lampaert sets the fastest time

The mechanical breakdown of Campenaerts