profile
Yuka Akimoto (Yuka Akimoto / Maiden name: Kashiwagi) Born in Hiroshima Prefecture in 1986
Hiroshima Detention Center
Aritomo Dojo Leader
Kodokan Judo Women's 4th Dan
Main results:
2004 Inter-High 63kg class 2nd place
2006 Prefectural Competitive All Japan Women's Judo Tournament 2nd (Ibaraki Prefecture Team)
2008 Kodokan Cup All Japan Weight Championship 57kg class 5th place
I am very honored to be able to participate in JJ Voice, which has such a great variety of faces.
Can someone like me write it? I thought, but I will participate as one who loves judo.
I became friends with Chiharu Takemura when my child entered the Aritomo Dojo. With her very loving guidance, I became a fan in an instant. I was impressed by how the children's individual personalities, traits, and abilities were respected and taught. At the same time, she was excited about judo for the first time in a long time since she quit her career.
Well, I grew up in a family completely unrelated to judo. And I couldn't say that my motor nerves were good. As anyone who knows me in my active days knows, running is catastrophically slow.
It happened that Mr. Koji Okumura, the current director of the Aritomo Dojo, was a friend of his father, so when he saw me a little chubby (laughs), he said, "Let's go see judo practice! It was the opportunity for me to call out.
After that, I was completely addicted to the charm of judo, but in my case, it was very difficult to go through the dojo because my home was in the countryside. However, thanks to the understanding of my parents and many teachers, I was able to provide various practice places, and I was able to practice more than I could think of in elementary school. I practiced as long as I was physically fit, and sometimes I crossed the boundaries of the dojo. Many schools, including junior high schools, high schools, and universities, are willing to accept participating in the practice, and I am only grateful when I think about it now. And, thanks to the connection between people, I continued to be a player until I became a member of society.
Currently, I am working as a prison officer at Hiroshima Detention Center. He continues to play judo even after he became a prison officer. Of course, it's difficult to fight, but judo is still a part of me, whether it's a referee or a child's coach. Unfortunately, there are very few female judoka prison officers. I wish more and more judo artists would come. Above all, the profession of a prison officer is a very understanding workplace for balancing work and child-rearing. There is no doubt that I am working in a situation where I have four children and my husband is currently working alone! !! If you are interested, please feel free to contact us.
I told you that I have four children now, but my children are also doing judo. At Aritomo Dojo, there are many promising players who will participate in the national elementary school competition as a representative of Hiroshima Prefecture, but we will never force them to practice. As mentioned at the beginning, we respect individual personalities, traits, and abilities, and we also value the feelings of the family for judo. For example, parents have various expectations for judo, such as etiquette, wanting them to strengthen their bodies and know how to use them, and want them to be more active. As a parent, I am fascinated by the teaching method that values ​​that feeling very much.
As a leader, I am still inexperienced and immature. Now I have decided to practice with my children as long as I can move, and I am wearing judo clothing together. The two younger children (1 and 3 years old) are able to teach thanks to the fact that Mama-san and Dad-san at the Aritomo Dojo take turns. The reality is that it is quite difficult for a female judoka to get involved in judo after giving birth to a child. Now, with the understanding and cooperation of many people, I am still able to get involved with judo. I would like to give back my gratitude in the form of guidance. I would like to face the children firmly, adapt to the changing environment, learn, and grow with judo.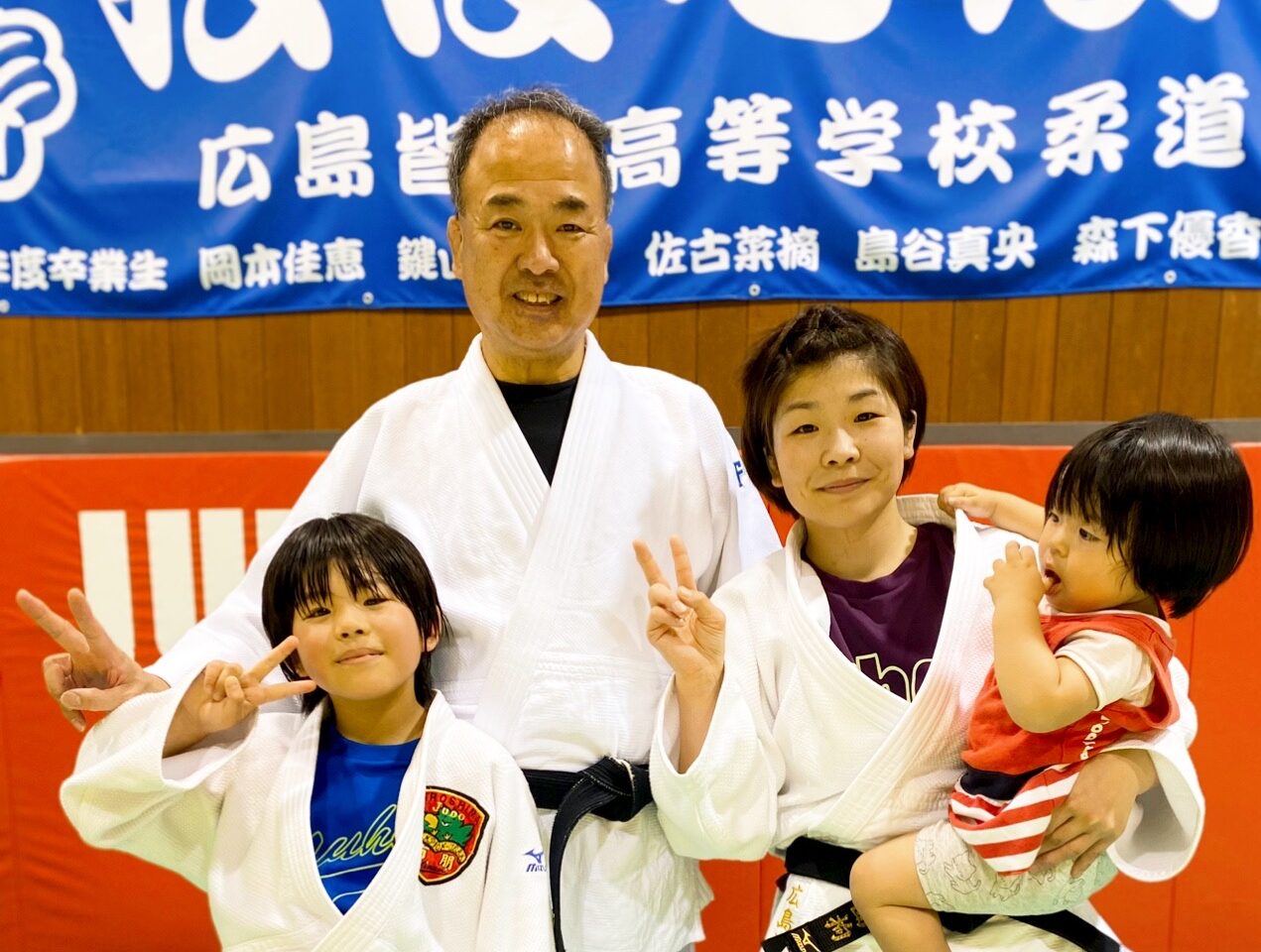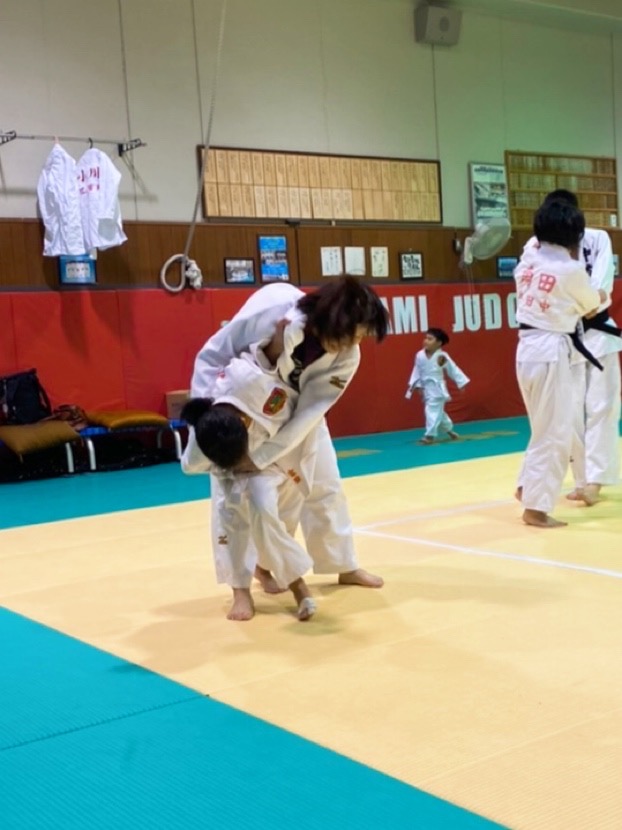 Next time, Ms. Eri Tamura (maiden name: Kakita), who has been a friend of mine since she was a strengthening player and is still a friend of mine who talks about child-rearing, will appear.