Dunks and two-pointers of all kinds at the Groenplaats in Antwerp this week, because the World Cup 3×3 basketball is taking place there. The Olympic hype of 2021 will be continued in a World Cup in our own country and may also be a keeper after that. Tomas Van Den Spiegel and Kris Meertens focus on the subject in our podcast De Tribune.
Do you remember? The phenomenal buzzer beater of Belgian Lion Thibaut Vervoort, with a margin of 7 hundredths left to reach the quarterfinals at the Olympic tournament. A new dose of sports nationalism in a hitherto unknown discipline.
The organization of the World Cup 3×3 in our own country should warm up the sports enthusiast for the young basketball branch, and that seems to work, because some sessions are already completely sold out.
"It is also a real summer sport," says ex-basket player Tomas Van Den Spiegel. "Everyone gets into a certain atmosphere, especially now that the public can experience in real life what they have seen on television all summer."
Sporza commentator Kris Meertens was there live in Tokyo and especially notes that it is extremely intensive. "Rarely have I seen athletes suffer like this. You really shouldn't underestimate the difference there is with classic basketball. You never have time to recuperate."
"3×3 has already meant a lot for basketball", says Van Den Spiegel. "You have addressed an audience that you would never reach otherwise. And you also notice that the discipline is gradually taking on a life of its own: it really requires a specific type of player. It still takes some time, but it is a strong discipline of its own." it become."
In a way it is also a bit strange that Celis as the inspirer can or must make those decisions, although I also assume that that decision was made in all integrity.
Without Bogaerts

Part of the success story in Tokyo was the relative everydayness of the Belgian Lions, Team Antwerp as they are officially called. A group of friends that decided everything without a coach and found their own way.
Great was therefore the surprise when captain Nick Celis announced that Raf Bogaerts would not go to the World Cup. "I thought it was very strange," says Meertens. "I also received the pass from Celis that Maxime Depuydt was called up. I took on as sixth man, a buffer for injuries, but it was also premeditated then: they are aiming for more two-pointers."
"Somehow it is also a bit strange that Celis, as the driving force behind it, can or must make those decisions," adds Van Den Spiegel, "although I also assume that that decision was taken in all integrity. But it is an annoying thing for Raf Bogaerts, who also wanted to shine in his own city and was one of the founders of Team Antwerp's success."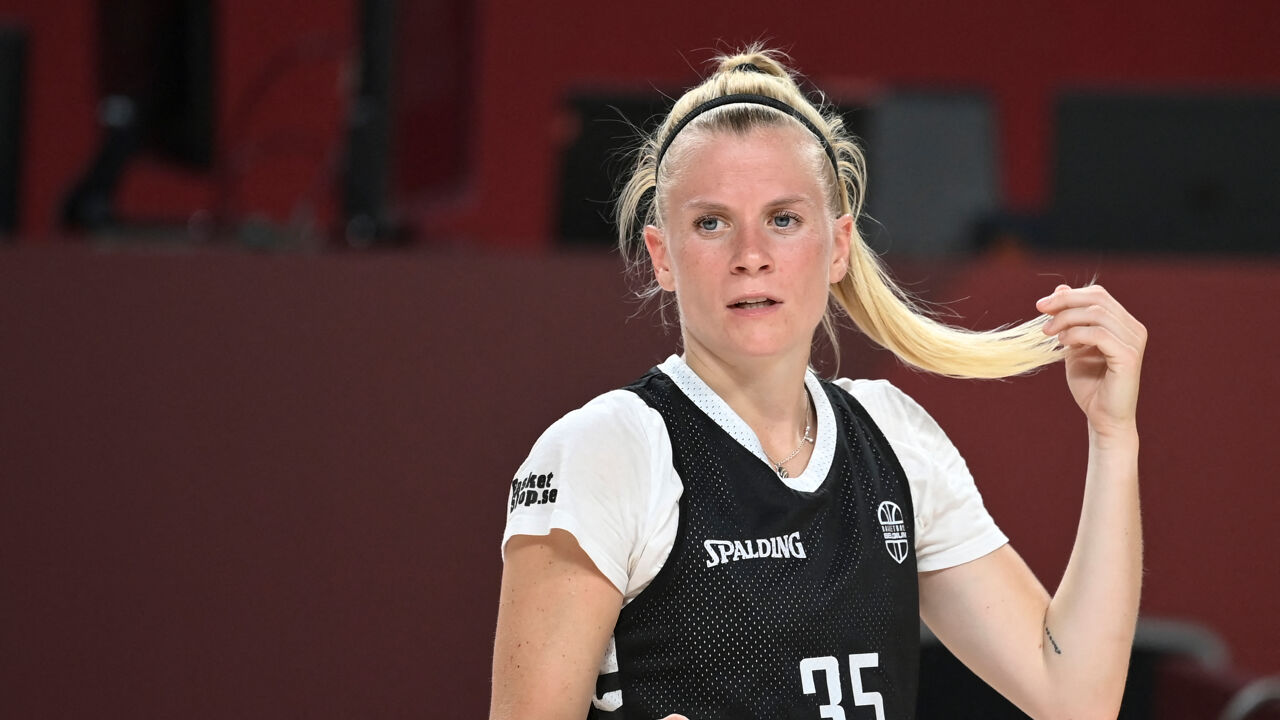 Julie Vanloo
Vanloo: "I know how it can sting"

It is a situation that Julie Vanloo recognizes all too well. The 3×3 posterlady before the World Cup, he also had to watch from the sidelines at the Olympic qualifying tournament in hometown Ostend (in indoor basketball).
"I also plan to send Bogaerts a word of support. I don't know him that well, but I know how it can sting."
Vanloo himself will be there this time in Antwerp. She and some fellow Cats form a strong team. "We are a strong collective because of our experiences with the national team, and if we start the tournament with the same mindset, we can aim high. With the Cats, we are all winners. We certainly hope for the quarter-finals and dream of even more. "
The contrast with the men is striking. Celis and Vervoort do not play at the highest level in 5×5 basketball, the Belgian women's team stems entirely from classic professional basketball.
But national coach Valéry Demory gave Vanloo his blessing. "The national coach mainly said 'good luck' in 'have fun', but of course he also hopes that we don't get injured. You're constantly entering the red zone in 3×3, but the energy you get in return is priceless."
Listen to the full episode of De Tribune