"Showa Professional Baseball Workers Talking to Reiwa" 25th Toru Mori, Part 1 (List of series articles >>)
A series of series that explores the essence of past interview materials of "Showa professional baseball players" with historical value. I would like to introduce the story of Toru Mori, who boasts the strength of competing for one or two among all the professional baseball players and has a deep connection with the martial arts world, in the first, middle and second parts.
Mr. Mori, who entered the Chunichi Dragons as a star of Tokyo Big6 Baseball League, left the team in just four years while showing an activity enough to win the double crown in the second year. In addition, although he has accumulated achievements at the transfer destination, he retired mysteriously at the age of 33. What was the disagreement with one director who was said to have been behind that?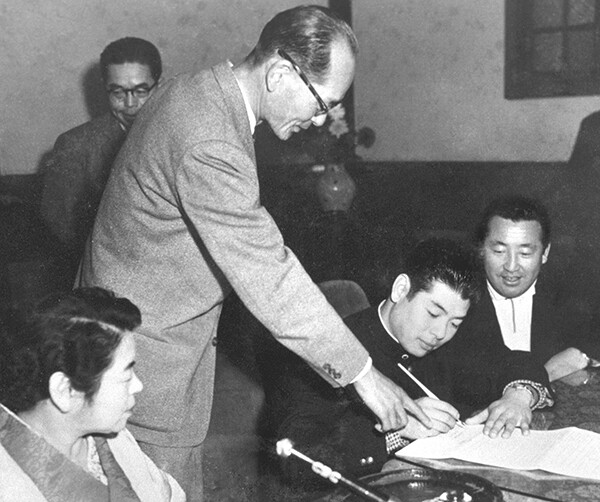 Rikidozan was present in the contract to join Toru Mori, and he was a big rookie (photo = Kyodo News).

* * *
I went to see Toru Mori in July 2005. His first motivation was the Chunichi-Giants OB match at Nagoya Baseball Stadium in November 1996, nine years earlier. Mr. T, who has been a dragons fan for 40 years and watched the game together, was deeply moved and interested, saying, "No way, Toru Mori is a legendary player." I'm ashamed to say that I didn't even know the name of the chunky Chunichi OB.
According to literature, Mori was born in 1935 in the former Manchuria (now northeastern China). His birthplace ran a restaurant, and a sumo wrestler who went to the site for a sumo tour also visited the store. The sumo wrestler was Rikidozan in the chicken era after the Makushita era.
Later, when he turned into a professional wrestler and Rikidozan, who made the whole of Japan alive, was a low-ranking wrestler, he was taken care of by Mori-san's mother. At the same time, he said he loved Mori, who was 11 years younger, like his younger brother. It seems that he signed a contract with his brother-in-law in later years, and few baseball players have such anecdotes. This alone made me curious.
After the war, the Mori family repatriated to Hokkaido and eventually moved to Tokyo. Mr. Mori, who advanced to early graduate school in high school, joins the judo club. He was famous in the high school judo world for his log-like arms and superhuman strength, but he seems to have played baseball as well. In fact, after he entered Waseda University, he joined the baseball club while continuing judo and played an active part in the Tokyo Big6 Baseball League. He was so good at hitting that he was assigned the third position from the spring of 2nd year, and his strong shoulders were attractive as an outfielder.