Chae Jong-hyeop showed infinite growth potential as he put an end to the journey of 'The speed to you'.
On the 9th, KBS2 drama 'The Speed ​​Going to You' (hereinafter referred to as 'You Accelerate') ended with the 16th episode, and realistically depicts the character's growth in the background of the badminton business team, making the first lead role on the airwaves meaningful. It was announced that Chae Jong-hyeop, who was finished, will be reborn as a next-generation leading actor.
Chae Jong-hyeop, who started with a web drama and stepped up step by step, as the male lead who leads the drama completely through 'Accelerate You' after 3 years of debut, received the attention of broadcasters as well as the public, and the colorful character of 'Park Tae-jun' Proving his solid acting ability that fully captures the charms, he is receiving infinite interest from inside and outside the industry as an actor looking forward to the future.
Chae Jong-hyeop's charm shined through in a youth drama that combines sports and romance with a story of growth. Chae Jong-hyeop's strong physical and badminton skills he had honed before filming were enough to increase viewers' immersion, and the freshness emanating from his existence itself was praised for being youth itself. The love line with Park Joo-hyeon, who was in charge of one axis of 'Double Park Couple', and the chemistry that survived regardless of gender, influenced the tension of the play.
To this end, Chae Jong-hyeop delivered a Q&A through his agency to mark the end of 'The Speed ​​To You'.
Below is a Q&A of Chae Jong-hyeop.
Q. You have been living as 'Park Tae-Jun' for about 8 months from last fall to this spring. I wonder how you felt at the time of the last filming.
The moment I entered the filming site, I felt very strange, unlike usual. It was the filming site I always went to, so I didn't really feel that it was the last time, but as I talked with fellow actors and staff, I think I felt that it was really the last time. I was able to learn and experience a lot in various fields while acting as Park Tae-joon through 'Accelerate You', and I felt a lot of regret because I heard a lot about everyone I worked with.
Q. 'Accelerate You' is your first terrestrial TV starring role in 3 years of debut. Were there any pressures as the main character to lead the play?
As there are more people paying attention to me than in the past, I have a lot of responsibility, and I have a lot of pressure and worries. So, when I got involved in the work, I think I felt a lot of mixed emotions. People around me gave me a lot of encouragement and advice, and I think I was able to put a little bit of pressure on the work by focusing on how to best express Park Tae-joon rather than thinking that I took on the lead role.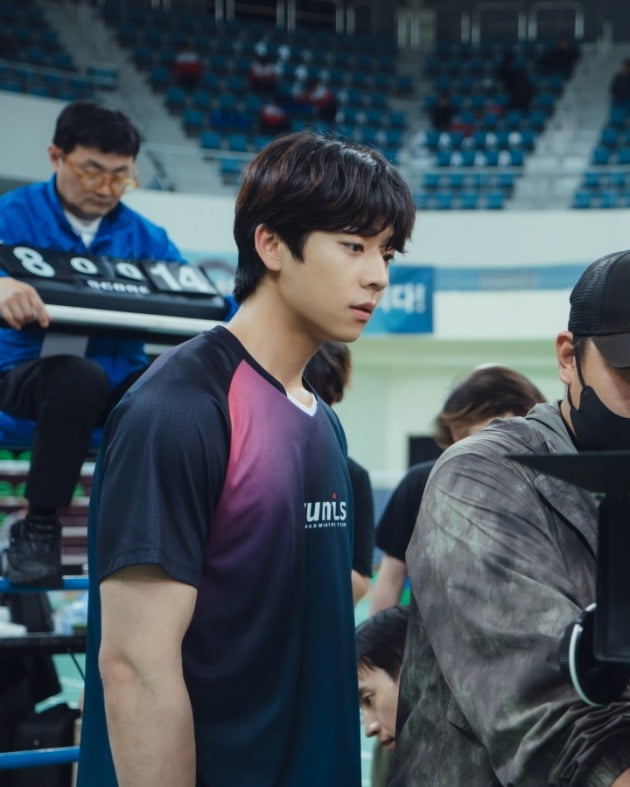 Q. In the play, Park Tae-joon watched the conflict between his lovers Park Tae-yang (Park Joo-hyun) and Park Jun-young and the loneliness caused by his interest only in his older sister Park Jun-young (Park Ji-hyun) from a young age, and the more episodes he played, the more his inner emotional acting grew. It must have consumed a lot of emotions, but wasn't it hard?
It was difficult and there were a lot of worries about expressing my emotions. There were many scenes of Taejun's emotions hiding in front of him and suffering alone from behind. If she is Tae-Jun in the play, she seems to be a person who can handle it alone even in such a situation, so I wanted to express her feelings by excluding her as much as possible. It was difficult because of my personal greed to express those parts well, but whenever that happened, the director and fellow actors helped me, so I was able to continue filming more easily than I thought.
Q. From fellow actors of your age, you worked together with actors such as Jo Han-cheol, In Gyo-jin, and Lee Seo-hwan. What was the atmosphere on site?
The scene was always fun. Rather than just having fun, it was nice to be able to act with good people, and I was happy and honored to be able to act with the seniors I admired in every situation with a different breathing.
Q. You must have consumed a lot of stamina as there were a lot of badminton matches. How did you manage your stamina?
I like to exercise, so I think I did my usual fitness management. Before filming, I thought that running lightly and exercising at the gym would have helped. Because the character in the play was a badminton player, I think my physical strength naturally improved a bit while learning badminton.
Q. 'Accelerate You' ended with a rather disappointing viewer rating, but the actors' passionate performances were brilliant. Were there any regrets as a lead actor?
Rather than dwelling on the viewership ratings, the regret remains of 'It would have been better if I had expressed it a little better'. For 'Accelerate You', the director, writer, actors, and staff really did their best and were passionate, so I feel like the regret has eased a little.
Q. What was the reaction of those around you when you saw 'You Accelerate'? What was your most memorable reaction?
Since the character in the play is a badminton player, many people ask me if I can play badminton well. It was the most memorable because so many people asked. In fact, when I started learning badminton, it increased a lot.
Q. What kind of work will 'Accelerate You' be remembered by Chae Jong-hyeop?
'Accelerate You' is a work I'm grateful for that allowed me to experience many things and learn a lot. Just as Taejun met Taeyang and grew up in the play, it was a time when I was able to develop through 'Accelerate You'. So, someday, when I suddenly remembered 'Your Acceleration', I think it will be remembered as a very grateful work.
Q. Please say a word to the viewers who loved 'You Acceleration' until the end.
In the meantime, thank you so much that I can't express it in words for spending your precious time with 'You Accelerate'. I would like to thank everyone for their support and interest in Taejun, and to everyone who loved Ssangbak and the Eunice team, and I will do my best to greet you with a better image.
By Kim Ji-won, staff reporter for Ten Asia [email protected]
© TenAsia, unauthorized reproduction and redistribution prohibited