[서울시 자치구 뉴스]Seongdong-gu, equipped with multi-purpose gymnasium, swimming pool, gym, rooftop outdoor futsal court, etc. from July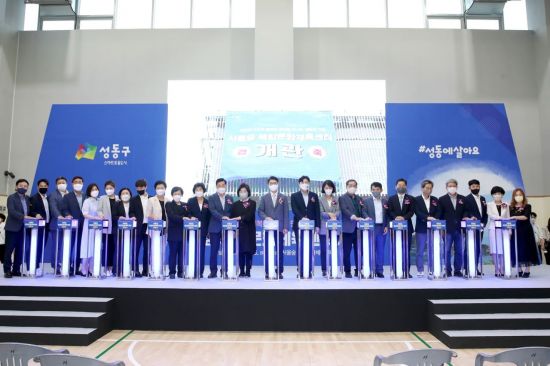 [아시아경제 박종일 기자] The 'Seoul Complex Culture and Sports Center', which will become another Mecca in Seongsu-dong, Seongdong-gu (Chairman Won-oh Won), opens.
The Seoul Forest Complex Culture and Sports Center (hereafter referred to as the center), built on the Ttukseom resin (the area around 685-63 Seongsu-dong 1-ga) that traps rainwater when it rains, provides sports and cultural programs for various sports, including sports and culture. , will start full-scale operation from July.
Boasting an unobstructed view from all directions, the center has a total floor area of ​​5589 square meters and has four floors, and is equipped with a multi-purpose gym, a swimming pool, a gym, a rooftop outdoor futsal court, and a bowling alley.
From a gym where you can train your physical strength with a treadmill and 10 types of exercise equipment where you can enjoy the sunlight shining brightly through the window, a public bowling alley for the first time as a Seongdong-gu sports facility has been installed with ample 8 lanes for everyone to enjoy. can
Programs such as yoga and Pilates, a music room equipped with drums and keyboards, a studio where YouTube videos can be produced, and a small meeting room will be operated in earnest.
The 5-lane swimming pool, located on the ground, where you can enjoy abundant sunlight and the view outside the window, is as good as a luxury hotel. It is also meticulous in consideration, such as ramps and wheelchairs for access, so that disabled or elderly users do not experience difficulties when accessing them.
A multi-purpose gym where you can enjoy sports such as basketball, badminton, kendo, and indoor inline sports, an outdoor futsal court of 392.2 m² where you can play as much as you want with a dedicated lawn, as well as a daycare center and an elementary school care center 'Ikum Nu Liter' on the 1st and 2nd floors and added care.
When you enter through the entrance of the building, you will find 'Chaekmaru', the representative open library of Seongdong-gu, where you can relax with books. From the 1st floor to the 3rd floor, you can feel relaxed at 'Cafe Seoul Forest', which is run by seniors and women with experience, along with books that fill one wall.
As it is located near Ttukseom Station on Line 2, it is easy to access, and 334 Ttukseom resin public parking lots were previously opened (February 2, 2012), and shuttle buses were operated in nearby areas, further enhancing the convenience of residents.
The center, with a total project cost of KRW 30.5 billion, completed construction for one year and six months as Seongdong-gu's representative social overhead capital (Social Overhead Capital, enhancing the convenience of residents in daily life, such as childcare, culture, welfare, and sports), and the opening ceremony was held on the 28th. had
Seongdong-gu mayor Won-oh Won said, "In the future, the Seoul Forest Complex Culture and Sports Center will become a landmark of sports, culture, and welfare facilities that can be enjoyed in daily life. We will do our best to become
Reporter Park Jong-il dream@asiae.co.kr