Semi-rigid baseball circle at the Shikoku District University Semi-rigid Baseball Federation Spring Tournament held at Tsuda Sogo Koen Baseball Stadium (Kagawa Prefecture) in Sanuki City for eight days from April 30 to May 7. Won the runner-up and won the team's first participation in the All Japan Championship.
The semi-rigid baseball club was founded in 2019, and has acquired members centered on the first representative, Mr. Taketo Matsumori (4th year in the system engineering group, from Kochi Nishi High School), making full use of public relations on SNS etc. 31 people belong to it. While the tournament is not held in Korona-ka, we have been practicing twice a week, valuing the circle of the team with the motto "Enjoy and win with all our strength".
In the second round of the tournament final league match against Kagawa University, he was caught up in the final stage, but he escaped with the succession of pitchers Taketo Matsumori and Daigo Iwawaki (4th year in the environmental science and engineering group, from Tokushima Municipal High School). ..
Although I was unfortunately defeated in the final match against Tokushima Bunri University, I won the runner-up with a record of 2 wins and 1 loss, and got a ticket to the All Japan Championship.
| | |
| --- | --- |
| Tokushima Bunri University | 002 111 040   9 |
| Kochi University of Technology | 000 010 020   3 |
Yuki Izumi (3rd year, Environmental Science and Engineering Group, from Osaka Prefectural Ichioka High School) of Hyundai Omote said, "I was nervous because it was an official game with little practice, but I cherished the brightness. I was able to make the best use of my teamwork to win. This is my first time to participate in the All Japan Championship, but I want to do my best to win one. "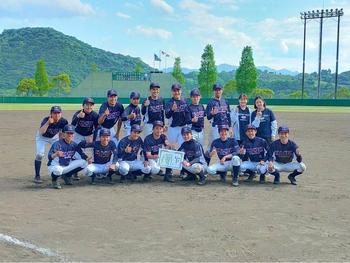 The 74th All Japan University Semi-rigid Baseball Championship will start on August 22nd.It will be held at Rexxam Stadium (Kagawa Prefecture).Thank you for your warm support for the semi-rigid baseball circle.
RELATED POST
Related article