Item "
Basket Serie A2
Born in Cuneo in 2002, this year he played in Serie B with Langhe Roero Basketball, resulting in the best scorer of the team and finishing in double figures in 21 of the 30 races played.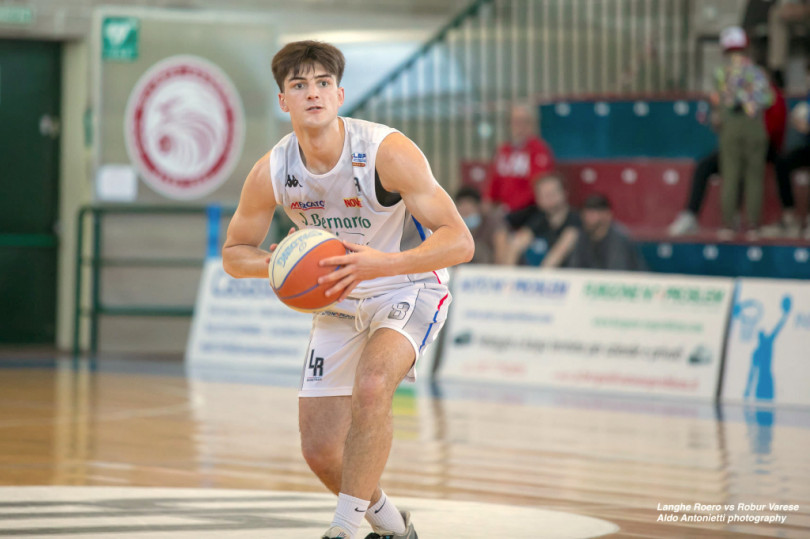 The first new addition of Novipiù JB Monferrato for the 2022/2023 season is the young winger Nicolò Castellino with which the company has signed a two-year agreement.
Guardia class 2002, originally from Cuneo, took his first steps in basketball in the Granda Basketball with which he won three youth championships. In the 2017/2018 season, still very young, he made his debut in C Silver while the following year he moved to Novipiù Campus Piemonte with which he played for two seasons in both U18 Excellence and C Gold. In 2019/2020 he wore the Basketball Torino shirt in Serie A2 as an aggregate before moving to Olympus Basket Alba in Serie B. In the championship just ended he played in Langhe Roero Basketball, a company born from the union between Olimpo Alba and Basket Team Bra . His season is surprising having finished in double figures in 21 out of 30 races. He is the third best scorer of the team with an average of 12.4 points, 5.8 rebounds and 2.4 assists in 27.4 minutes, with 41% from 2, 35% from 3 and 75% from free throws. Langhe Roero hits the qualification for the playoffs and Nicolò is awarded by the LNP as "Best Under 21" for the Serie B Old Wild West. Castellino has also been called up by the U20 National Team for the Roseto degli Abruzzi meeting which will begin on Thursday 23 June in view of the European Championships to be held from 16 to 24 July in Montenegro.
Like this Federico Vignolanew sporting director of Novipiù JB Monferrato presents the player: «We are very happy with Nicolò's arrival: he represents the profile of a player suitable for our team: young, but who in the past season has already shown that he has important qualities and we believe he is ready to jump in the category. The best under award and the recent call-up to the U20 national team are two important steps in his growth path. In addition, I am convinced that, with his determination and desire for basketball, he will immediately conquer the audience of "PalaEnergica Paolo Ferraris" ".
These are the first words of Nicolò Castellino as a Novipiù JB Monferrato player: «I am thrilled by this new opportunity. I've always had the goal of getting to play in Serie A2. As a Piedmontese, having been born and raised in Cuneo, having the opportunity to do so in my region is even more exciting. Playing for Novipiù JB Monferrato is a great satisfaction and I remember with passion the many challenges as an opponent at the time of the Youth Sector against the teams of Casale. Personally, this year was a very positive season and I'm sure it will help me face this new adventure with the right attitude ".