Six years ago, bench seat in 4th provincial, today Zulte Waregem's latest summer acquisition. The story of Stan Braem (23) is "Hollywoodesk". Many – if not all – youngsters from the lowest football league dream of it, but only a few succeed. Why did the "street football player" succeed with "Bronze Slipper"? An insight into Braem's unique career.
A noble unknown who gets his chance in first class.
A coveted screenplay in Hollywood. For example, Santiago Muñez and Dennis Moerman needed a film director to write this plot. Stan Braem, the new summer acquisition of Zulte Waregem, took over the direction himself.
Barely six years ago, Braem was still a bench seat in the fourth provincial at Steenbrugge. As a sixteen-year-old he was already allowed to get a taste of "adult football." That immediately made me want more.
Every chance he got was a goal
"I still remember when we played against Steenbrugge. Stan came off the bench fifteen minutes before the end. He played us all together," says trainer Ronny Houben, who sent Braem to his Dosko Sint-Kruis (4th provincial) the following season. ) took.
A successful transfer. The 17-year-old attacker was dropped in the striker and guided his team – with a cartload of goals – to the title for 2 years in a row. "He scored around 30 goals every season. Every chance he got was a goal."
The tone was set. Braem would get a lot of chances, and even finish them at Zulte Waregem.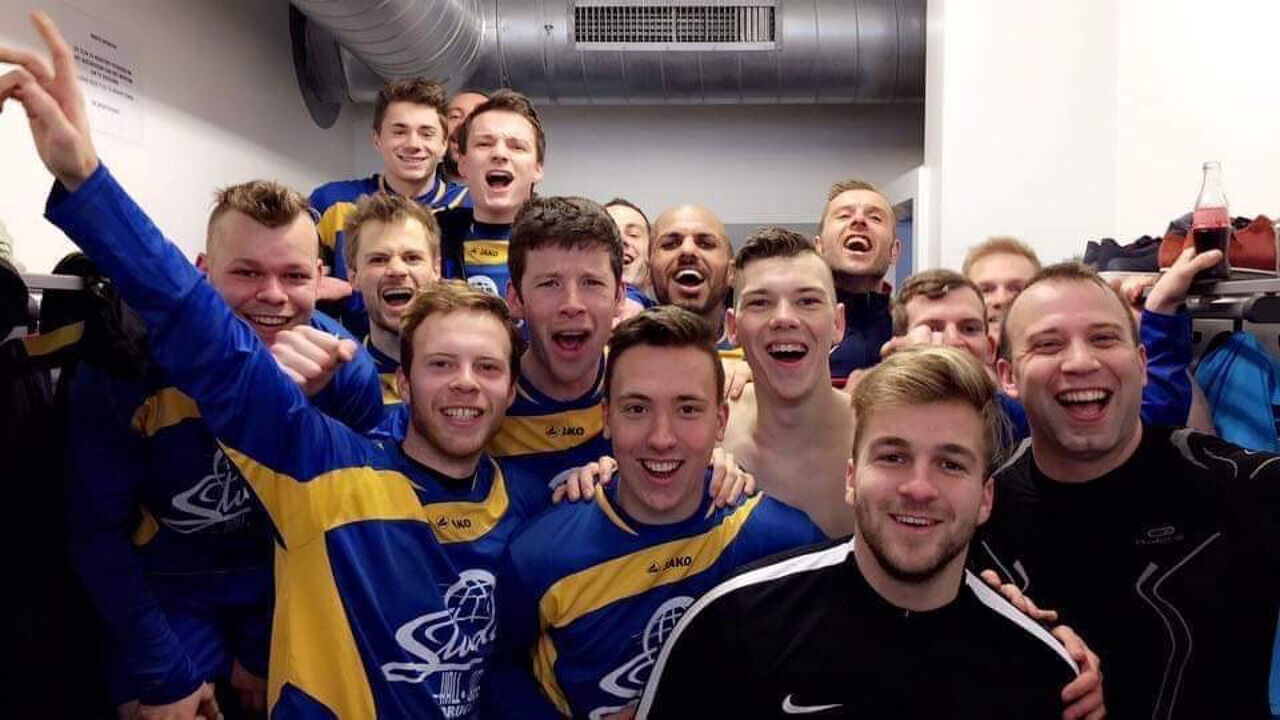 Braem's storming of heaven started in 4th provincial, at Dosko Sint-Kruis.
"His older and more experienced teammates also knew immediately: With Stan we have a diamond in the team. A provincial gem," Houben says.
A diamond that would be neatly cut. Carat per carat. For example, Braem chose season after season to transfer to ééone level up.
2016-2017-2018: Dosko Sint-Kruis (4th and 3rd provincial)
2018-2019: KFC Varsenare (2nd provincial)
2019-2020-2021: KSV Oostkamp (1st provincial and 3rd amateur)
2021-2022: KSKV Zwevezele (2nd amateur)
"Every year a series higher was somewhat his trademark," says Kurt Delaere, his trainer at KSV Oostkamp. "He has not skipped any steps and at every level he has remained the same goalscoring machine."
"That is also Stan's great weapon, that step-by-step evolution," explains Hans Cornelis, his trainer at Zwevezele. "He has had to prove himself year after year. He has passed that test with verve so far."
"Now the big step: Zulte Waregem."
"Street Football Player" with Bronze Slipper

After going through the entire amateur football, Braem saw his dream come true last week. Zulte Waregem offered him a professional contract for two seasons. His scoring ability, special course and Bronze Slippers convinced the club to give him a chance at the Gaverbeek.
"Bronze slipper", you can take literally. We are not referring to his smooth-scoring left or right. The Bronze Slipper is the prize for the best futsal player of the season. The hall's golden shoe, actually. Braem won that in 2020, when he was active with futsal team ZVC Assebroeke.
"Stan has developed further in the hall and has taken it to the lawn," says Laurenz Simoens, his former teammate at Assebroeke and the national futsal team. "He has learned to think quickly both technically and tactically. In the Futsal, the pace of a match is very high."
"We were also just playing football day in and day out. Sometimes even in the dive", laughs Simoens, referring to the sneaky character.
His former trainers also underline the importance of his passage in the hall. "Stan looks a bit like a street football player on the field," says Delaere (KSV Oostkamp).
"He is not shy of a 1-on-1 situation. On the contrary: he often brutally seeks out those duels. He learned that in the hall. He sometimes did things to a ball that the defenders didn't know existed."
"Stan also made movements with us, which were not often seen at the level of the 2nd amateur series. He took those movements with him from the hall. He linked this to an enormous torinic instinct", Hans Cornelis (Zwevezele) also agrees.
"Indeed, if Bram shot to the goal in the Futsal, you could already turn around", concludes his ex-teammate Simoens.
Stan looks a bit like a street football player on the field
Whether on the field of Varsenare or in the hall of Assebroeke: "Give him a chance and he's in it", Braem sounds in unison.
"If he gets opportunities from the trainer and they guide him well, I see Stan develop even further at Zulte Waregem," says Cornelis. "He has the qualities to show his nose for goals there too. Hopefully he will get the opportunity to do that", Kurt Delaere agrees.
He already got his first chance – in a practice match against KSV Oudenaarde – from Mbaye Leye.
And yes, the 3-0 came in the name of … Stan Braem.