Yuio Fukatsu showing confidence in the rebound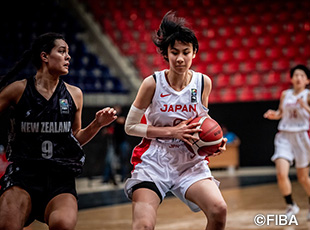 Fukuo Kana who scored 8 points
The "FIBA U16 Women's Asian Championship" semi-final will face New Zealand. Japan, who had been scoring in haste from a fierce defense, won 87-58 and decided to advance to the final. Australia defeated South Korea 98-81 in the previous match, and tomorrow's 30th (Thursday) final will be Japan vs Australia from 17:15. We aim to be the revenge lost in the qualifying round and the target Asian champion.
There was a scene where New Zealand pushed the inside and conceded a goal, but Japan made a chance with a fierce defense that could not reach the goal any more, and Japan will lead the match. In the first half, only two 3-point shots were shot, and the difference was unexpectedly 46-33. In the 3rd quarter, the opponent is kept to 10 points and pushed out with 70-43. In the final quarter, Kouka Higashi (2nd year at Wakaba High School attached to Fukuoka University), Shinon Ueno (3rd year at Seiwa Gakuen High School), and Mana Enomoto (2nd year at Gifu Women's High School) scored 3-point shots, 87-58 and 29. I won a good victory with a point difference.
The double-digit score is 5 people, and Sixth Man Ueno keeps a good performance with 14 points today. Fukuo Kana (2nd year student at Okagakuen High School) has also returned and scored points from a wonderful step, and I look forward to her success in tomorrow's match against Australia.
In the qualifying round against Australia, which is 10 cm taller on average,"After all, the opponent was bigger than I expected, and I was so strong that I was surprised and couldn't play as I expected."Yuio Fukatsu (1st year student at Okagakuen High School) looks back. The first quarter of the match was widened to 9-24. However, if you thoroughly defend and rebound,"I was able to regain my play little by little."Fukatsu is active with 13 points / 9 rebounds. He is particularly confident that he has been rebounded and"Even if you can't catch yourself, it's important to make sure you don't let your opponent catch it. You can't win with power, so I want to beat it with speed."Just play as hard as you can without hesitation so that you can finish the final race with a smile.