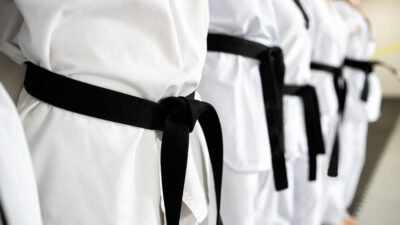 A 16-year-old budo fighter received zero points for her martial arts demonstration. Reason: She wore a headscarf. That triggers discussions. Muslims accuse the Sport Federation of racism. The sports association rejects the allegations.
Sunday, June 19, 2022, 7:00 p.m|last updated: Sunday, 06/19/2022, 03:51 p.m Reading time: 2 minutes |
The appearance of a Muslim martial artist wearing a headscarf at an international competition in Oldenburg sparked heated debates in the Islamic community and in the martial arts scene. The 16-year-old Budo fighter from Leer received a zero point rating for her demonstration of fighting techniques because she wore a headgear. The Islamic National Association Shura Lower Saxony then practiced clear criticism of the organizer, the "International Budo Federation Germany". The referee's behavior was "discriminatory and humiliating". The association rejected the accusation.
The Islam Association said at the weekend in Hanover that the "exclusive behavior" of the federal referee was incomprehensible. The association chairman Recep Bilgen referred to the martial art Taekwondo, in which women are allowed to wear a headgear. A taekwondo fighter with a headscarf has already won several European competitions. The decision also does not fit in with the current efforts of the German Olympic Sports Confederation to integrate migrant women into sports clubs. Bilgen appealed to the Budo Federation to change the dress code for competitions.
Die "Budo Federation", however, emphasized: "The competition rules have been known for many years, and the tournament announcement was also known months in advance." Secretary General Andrew from the hair told the "Evangelisches Pressedienst" that for traditional reasons there was a strict dress code for all participants at the demonstration of the forms of struggle.
Muslims: Exclusion sexist and discriminatory
Of the "League of Muslim YouthAccording to the BDMJ, the competition rules are open to interpretation. Access to the rules was also denied on site. "We are outraged and disappointed by this discriminatory incident," says a BDMJ statement. It is an indictment that in Germany women athletes with headscarves are put in their way.
The alleged risk of injury from the headscarf is absurd: "We live in the year 2022. World-renowned companies have long been developing optimal headscarves for athletes and even Olympic participants. When male officials exclude sportswomen from competitions because the clothing does not correspond to their antiquated ideas, then this is either an expression of sexist, discriminatory or macho behavior," according to the criticism of the BDMJ. The federal government demands clarification from the sports association.
discussions at the competition
The "Budo Federation" points out that the 16-year-old athlete could have competed in the following discipline with head protection, which is mandatory for safety reasons. However, she did not take part in this second competition. At this point, the zero-point rating at the competition had sometimes led to heated discussions. Numerous competitors had shown their solidarity with the headscarf wearer.
The Oldenburger "Nordwest-Zeitung" first reported on the open German championship "German Open 2022" on June 11, in which hundreds of martial artists from Germany, Belgium and the Netherlands competed. After that, the coach of the 16-year-olds from "Budo Nüttermoor" in Leer with his student and protested against the rating. According to the report, he and another person in charge of the association wanted to appeal against the decision of the federal judge. The "Budo Federation" announced that it would process the entire incident in an appropriate manner. (epd / me)
Current panorama