MUHAMMAD ALIF AZIZ MARDIANSYAH/BOLASPORT.COM
Malaysia's men's singles badminton player, Lee Zii Jia, competes at Istora Senayan, Jakarta, June 8, 2022.
SportFEAT.com – Lee Zii Jia admitted that his defeat to Anthony Sinisuka Ginting at the Indonesia Masters 2022 made his weaknesses even more revealed.
Malaysia's only men's badminton king, Lee Zii Jia notched a minor result at the Indonesia Masters 2022.
Lee Zii Jia's steps had to be stopped after losing to Anthony Sinisuka Ginting in the quarter-finals of the Indonesia Masters 2022, Friday (10/6/2022).
Playing for 69 minutes at Istora Senayan, Jakarta, Lee Zii Jia was defeated in a 3 game battle 21-18, 16-21, 15-21.
Although both of them immediately appeared by showing world-class buying and selling actions, the Malaysian men's singles ranked 5th in the world actually almost won.
Also Read: Greysia Polii Gives Beautiful Words to Apriyani Rahayu After Deciding to Hang Racket
However, he did not succeed in continuing that momentum in the second and third games.
In the second and third games, Lee Zii Jia seemed rushed in making decisions.
In addition, Anthony Ginting's game in front of the net several times could not be anticipated by Lee Zii Jia.
The weakness of Lee Zii Jia was able to be exploited by Anthony Ginting to close the second and third games.
Read also: Indonesia Masters 2022 – Women's Doubles Number 1 Malaysia Gets Praise Even though Ambyar is in the hands of Apriyani / Fadia
Lee Zii Jia admits that he must immediately patch up his weaknesses if he wants to achieve his biggest target this year, winning the 2022 World Championship.
"He managed to play on the net and attack. In terms of the type of game, Ginting and I are actually more or less the same because we are attacking players," said Lee Zii Jia, quoted by Sportfeat from Berita Harian Malaysia.
"In that match, whoever wins at the net will have the advantage."
"I also made a lot of easy mistakes and this is something I have to fix," continued Lee Zii Jia.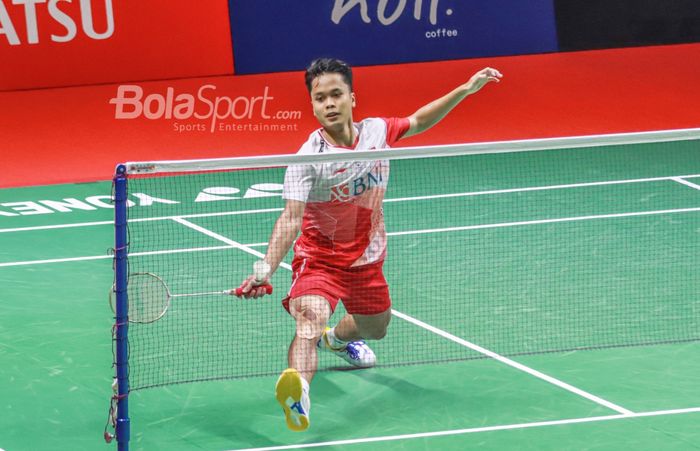 MUHAMMAD ALIF AZIZ MARDIANSYAH/BOLASPORT.COM
Indonesian men's singles badminton athlete, Anthony Sinisuka Ginting (Anthony Ginting), competes at Istora Senayan, Jakarta on June 10, 2022.
Read also: Apriyani Rahayu's tears flowed profusely at Greysia Polii's farewell moment
Meanwhile, Indra Wijaya as coach of Lee Zii Jia also praised the performance of Anthony Ginting who was being heavily criticized due to his ups and downs.
For the coach from Indonesia, Anthony Ginting did appear more powerful when facing his foster children.
Indra Wijaya also denied that the full support of the Istora Senayan audience helped Anthony Ginting to perform better.
"I think this support always happens in Jakarta. That (the audience) was not the main factor that caused Zii Jia's defeat," said Indra Wijaya.
Read also: Indonesia Masters 2022 – Losing to the 424th World Ranking Pair, Marcus / Kevin are even grateful
"Ginting performed better and deserved to win."
"For Zii Jia, he needs to continue to work hard and make more preparations for the upcoming meeting," he continued.
With this result, Lee Zii did not manage to win his third title in a row after winning titles at the 2022 Asian Championships and the 2022 Thailand Open.
Now Lee Zii Jia will be looking at the Indonesia Open 2022 which is planned to be held on Tuesday, next week.
In the first round of the Indonesia Open 2022, Zii Jia will face Sitthikom Tammasin from Thailand.
Featured Videos
PROMOTED CONTENT