Marco Völler has had a tough season. The former basketball professional switched to management at the Skyliners Frankfurt – and experienced the first relegation in the club's history.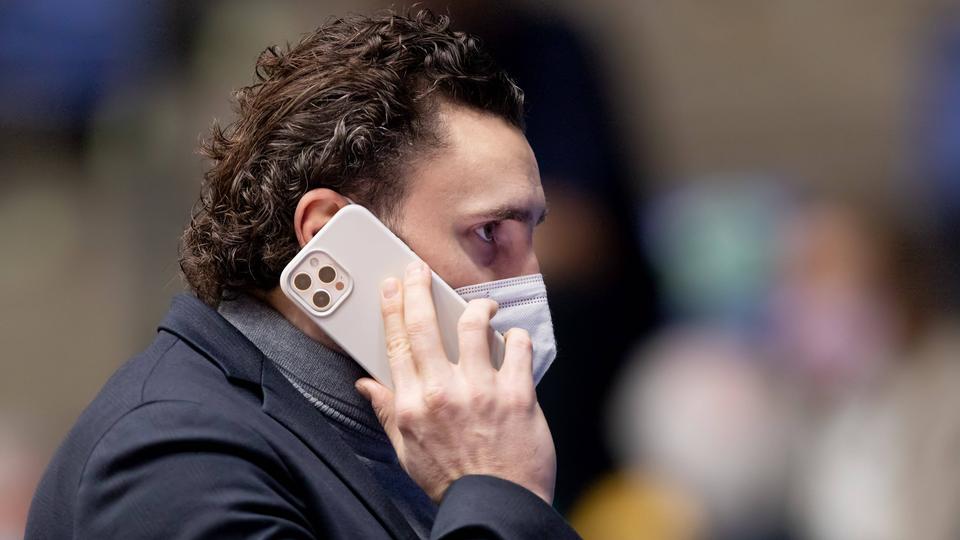 Marco Völler has completed his first year in a new position with the Bundesliga basketball team Skyliners Frankfurt. The ex-professional switched to the desk at Hessen as manager sport. At the same time, he laced up his basketball shoes for the youngsters in Pro B.
However, the season did not go well for either team. The pros were relegated from the Bundesliga, but are now hoping for a wildcard for the new season. With the Pro-B team, Völler was able to avoid relegation in the playdowns.
hessenschau.de: Mr. Völler, you have just completed your first season with the Skyliners Frankfurt as a sports manager. What went differently than you imagined?
Marco Völler: I didn't imagine that we would be relegated. I knew it was going to be a difficult season because we had a relatively young team and a coach who had little experience with German basketball. And I myself had absolutely no experience in my new position.
hessenschau.de: And yet the descent was unexpected for you?
Völler: I still think things could have gone differently if we hadn't had injury problems so early on. Then later there were other injuries and illnesses and of course mistakes that we made – the players, the coach, but also me. In the end, you don't get relegated because someone makes a mistake, but because a lot of things go wrong. That is a collective failure.
hessenschau.de: Did you have the feeling that coach Diego Ocampo, who was sacked in March, was a bit wrongly singled out as a scapegoat?
Völler: Of course you can say that that's unfair. But that's how it is in sports. We tried a lot this season, we signed a lot. The accusation we have to listen to is: maybe the change of coach came too late. It's part of the business. Every coach knows that. And also every sports director. When you take on that responsibility, it's about success.
hessenschau.de: How much did the relegation hit you?
Völler: That really hit me. Even though it had been certain for a while, I sat there after the last matchday and thought: 'Why? Yes, we can.' That was just unnecessary. And it is all the more bitter, sad and frustrating that it has come to this. I feel sorry for the club in particular.
hessenschau.de: And for you personally? Isn't that the worst possible start to your career as a sports manager?
Völler: I've never thought about the fact that it's bitter for me personally to be relegated in my first year. I actually don't give a fuck. This isn't about me, it's about the Skyliners, about the club. I have a good chance here and at least I'm not putting too much pressure on myself, even if there's always a bit of pressure. But everything will find its way. And if not, I still have the luxury of having a funeral home in the maternal family. I've always said: If sport doesn't work out, then I'll go to the funeral home (laughs). But joking aside, that's the way it is in sport: when things are going badly, there are always a lot of experts who know better how things should have gone and which players should have been brought in.
hessenschau.de: How much was Marco Völler in the current team?
Völler: With 14 players, there were maybe two or three that can be attributed to Marco Völler. But no player has decided alone. There was a list of players that we worked out, and then coach Ocampo, manager Gunnar Wöbke and I put our heads together.
hessenschau.de: How important is it to involve the coach in squad planning? For example, Ingo Freyer lets basketball play much faster than other coaches in the BBL. But for that he needs the right staff.
Völler: It's good that you mention Ingo Freyer. As a player, my contract in Gießen was extended early by the management. For the new season, however, Ingo Freyer replaced Denis Wucherer as coach. And after a few weeks it became clear: Marco Völler doesn't fit Ingo Freyer's style of play at all. And then you have a player sitting there who isn't happy because he's not playing, and you have to look at the best way to terminate the contract. These are problems that you would of course like to do without.
hessenschau.de: Luca Dalmonte, who replaced Diego Ocampo during the season, couldn't prevent relegation, but still won quite a few games at the end of the season. Will you continue to work together in him?
Völler: I don't want to completely rule it out, but I would be happy if you could find a coach who knows German basketball. If it's up to me, it can also be a German coach, but that's not a must. He just has to know the league, the BBL, the Pro A. That's a huge advantage in the end.
hessenschau.de: You don't know exactly in which league you will play next season. If the decision is made in the coming weeks, how long will it take you to unveil a new manager?
Völler: If I can choose, then we even have it beforehand. In my opinion, there are suitable candidates who can play in both leagues. But once we know which league we're playing in next season, hopefully it shouldn't take more than two days.
hessenschau.de: In addition to your new job, you also played in Pro B for the Skyliners Juniors. Was this your last season as an active player?
Völler: That has not yet been decided. It was very exhausting at times throughout the season. The time required for the manager sport position is very large. You basically have a seven-day week, because you're out and about with both teams on the weekends. It's been a tough nine months.
hessenschau.de: Would you have been as tough if both teams had done better?
Völler: That is of course the question. No idea. Right now I'm just at a point where I say: 'That was very exhausting'. But I still enjoy playing basketball and I'm reasonably fit. If I don't do anything for a few weeks, then I'll definitely say: 'I'm in the mood to play again. Come on, I'll do another season.'
additional Information
The interviewer was Gerald Schäfer
End of further information