Pep Guardiola I already told you in March. "I think Manchester City needs a center forward.. You say we played fantastically well without a '9' because we won. When we don't do it, you assure us that we are missing a point", a cityzen technician confessed to the BBC that he has achieved the missing piece.
"Take City's game to another dimension. Put pressure on defenders, be a threat in crosses and hold the ball and open gaps like no other striker on the team. Now, they waste many opportunities. They won't do it with him. I don't buy that it doesn't fit the style", said the 'excityzen' Micah Richards on the 'BBC'. Haaland will be the point guard in Guardiola's two favorite schemes (4-3-3 and 4-2-3-1) and He could even play in a 4-4-2 sharing a duo with Gabriel Jesus -if he is still in the club- or with the newcomer Julin Álvarez.
It will be 'top scorer' of this City
Alan Shearer blesses Haaland. "A striker like him, with the chances that City generates, scoring 40 goals per season. They are a great team without a '9' and with one they will be almost perfect. They press and steal from very high up and Erling took advantage of it", wrote in 'The Athletic' the all-time top scorer in the Premier League (260 goals).
A striker like Haaland, with the chances that City generates, scoring 40 goals per season. They are a great team without a '9' and with one they will be almost perfect

Alan Shearer, former player and historic top scorer in the Premier
Their numbers are scary. He is close to the average of one goal per game in Dortmund (85 in 88) that he already surpassed in Salzburg (29 in 27). His 28 goals in 29 duels this season with BVB, in which he has missed 16 games due to injury, improve on Mahrez's 24, top scorer this season for a City team that is sweeping Pep: they have surpassed the barrier of 100 goals per course since their arrival in 2016. In the Premier, they center, on average per game, 20.5 times. Haaland is already licking his lips.
Guardiola and the false '9'
Since he dazzled by winning the Sextet at the Camp Nou, Guardiola has not been faithful to the classic center forwards. Eto'o, Henry, Villa and Ibra were displaced from the '9' by the Messi earthquake. Lewandowski was immovable since he arrived in Munich… but before that he used Ribry, Gtze and Müller at Bayern. And at City, despite having Agero, he has tried everything.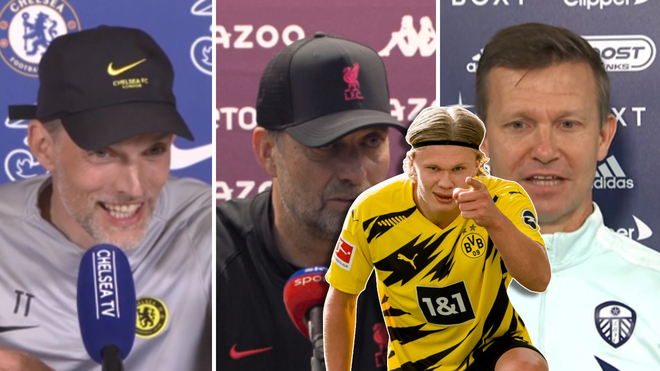 Foden (21 games), Gabriel Jesus (17), Grealish (16), Sterling (15), Mahrez (9), Bernardo Silva (5), Ferran (4) and Palmer (1) have been his '9' in Premier this year after the departure of Kun, the frustrated signing of Kane and throwing the Brazilian into the wing. "I have always had a striker in my teams. Like a goalkeeper, being a goalscorer is a specialist job. And I always play with one", said Pep. Now, he will have one of the best '9's. "He will come for many years and I am sure he will adapt perfectly to our team. He is an incredible young talent and he is at the perfect age", highlighted Guardiola. In his 'puzzle', Haaland will fit in well.