With the 93:95 defeat in Crailsheim, the Niners Chemnitz lost fourth place in the last game of the main round.
"It's really bitter, especially since the victory ultimately didn't bring anything to the Crailsheimers," said captain Malte Ziegenhagen (31) at the "SpiO" breakfast on MDR.
Bamberg defended eighth place with the home win against Hamburg and denied Crailsheim the last-minute leap into the play-offs. The Niners are in their second BBL year and are expected to come sixth in the main round against third-placed FC Bayern Munich.
The final decision will not be made until Wednesday evening. If the Ludwigsburg win their home game against Heidelberg, they stay ahead of Chemnitz. Ulm, who won the direct comparison, had already overtaken the Niners by beating bottom-placed Gießen.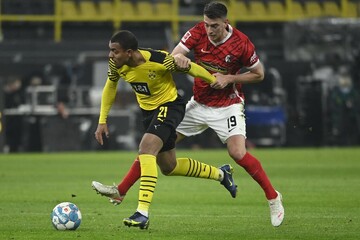 1. FC Union Berlin
Union Berlin blog: ​Haberer is from Freiburg
"In fourth we could have started with two home games and had the whole hall behind us," said Ziegenhagen regretting the defeat in Crailsheim. He assumes that Ludwigsburg will win and there will be a duel with Bayern.
Then coach Rodrigo Pastore's team would first have to compete twice in Munich's "Audi Dome" – on May 13th and 15th (both at 8:30 p.m.). On May 20th, Chemnitz would have their first home game. The game is played in best-of-five mode.
"The play-offs are the best time of the year. We should enjoy them," emphasized Ziegenhagen, who will leave the Niners after six years.