Malaysian men's doubles, Goh Sze Fei/Nur Izzuddin lost in the Malaysia vs India match in the quarter-finals of the 2022 Thomas Cup, at Impact Arena, Bangkok, Thursday (12/5/2022)
SportFEAT.com – Ahead of the 2022 Indonesia Masters, the Malaysian men's doubles open their voices about the differences in the pattern of play between Indonesia and Japan.
Despite experiencing a trend of performance development, Goh Sze Fei/Nur Izzuddin admitted that they always had difficulties in facing the Indonesian men's doubles.
Not only that, Goh/Nur also said that the Japanese men's doubles were also a tough competitor to beat.
Goh/Nur's annoyance is justified.
Malaysia's number two men's doubles had to bury his dream of winning the 2022 Swiss Open title after losing in the final to Fajar Alfian/Muhammad Rian Ardianto.
Read also: Pockets of classy capital, Leo/Daniel set this target at the Indonesia Masters and Indonesia Open 2022
Goh/Nur's steps at the Thailand Open 2022 had to be stopped by the Japanese number one men's doubles, Takuro Hoki/Yugo Kobayashi.
Not only Goh/Nur, Aaron Chia/Soh Wooi Yik who incidentally Malaysia's number one men's doubles always die when facing Indonesian men's doubles.
Aaron/Wooi Yik have lost both of their meetings this year in the semifinals of the German Open 2022 and Thailand Open 2022.
Also Read: BWF Ranking Update – Badminton King of Malaysia Displaces Anthony Ginting, Ahsan / Hendra Drops To This Position!
Even Aaron/Wooi Yik also surprisingly lost to Pramudya Kusumawardana/Yeremia Rambitan in the 2022 Asian Championship final.
With the frequent encounters with several Indonesian men's doubles this year, Goh Sze Fei admitted that he realized something important.
Goh Sze Fei always warns his teammates to always overcome mental and physical battles when facing doubles from Indonesia and Japan.
In addition, Goh Sze Fei also explained the visible differences between the Indonesian and Japanese doubles.
"It's hard to explain, but mentally when we play against Indonesia or Japan, we are a little bit at a loss," said Sze Fei, quoted by Sportfeat from NST.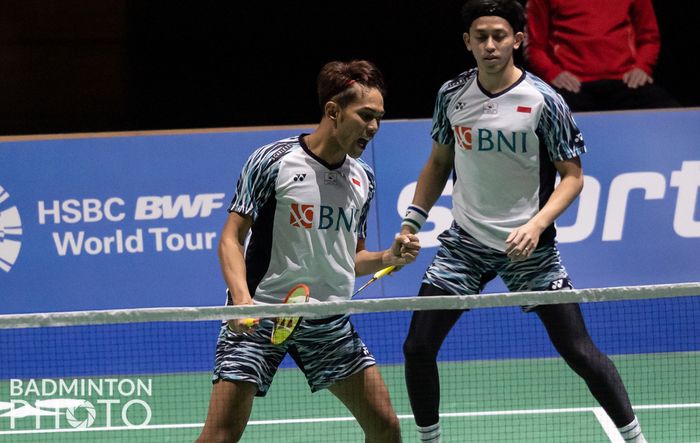 BADMINTON PHOTO
Indonesian men's doubles Fajar Alfian/Muhammad Rian Ardianto.
Also read: Aprilia will keep Aleix Espargaro and Maverick Vinales for next season, the 2022 Italian MotoGP will be the witness!
"Game-wise, the two of them (Indonesia and Japan) are very different."
"The Indonesian pair focused on half-field and forward attacks, while the Japanese combination combined defense and attack."
"Yes, our pairing has improved a lot, but we have to overcome this barrier."
"Mentally, we need to be better, but at the moment they won this game," added Sze Fei.
Also read: Ducati Sports Director Gives Grid of the Riders Who Will Accompany Bagnaia in the Factory Team Next Season
ahead of Indonesia Masters 2022Goh/Nur again have the opportunity to face another Indonesian men's doubles, Mohammad Shohibul Fikri/Bagas Maulana or Sabar Karyaman Gutama/Moh Reza Pahlevi Isfahani.
However, before meeting, Goh/Nur must first overcome Alexander Dunn/Adam Hall (Scotland) in the round of 32.
Indonesia Masters 2022 It will be held from 7-12 June 2022.
Featured Videos
PROMOTED CONTENT