GENTStriking sight in Flanders Expo, where about 1000 people bowed their heads to each other over one strand of spaghetti and performed an 'Italian Kiss' within thirty seconds. Good for an official world record, in the name of the Ghent entrepreneurs of Upgrade Estate.
Italian Kiss, what's that? That's the Lady and the Vagabond moment from the movie of the same name. Koenraad Belsack and Nele Van Damme of Upgrade Estate decided to break the existing record from France when organizing their event. The two started their company with one room, where at the beginning of the year they introduced the new roommates over a bowl of spaghetti. The record from France stood at 125 couples.
The spaghetti has partly become a wine tasting for 1,600 stakeholders, staff members, family and guests, but to stay with the theme, Guinnes World Record Italian Kiss was broken. Led by Belsack and Van Damme and an enthusiastic Jens Dendoncker, the guests started the attempt. After two practice rounds, 433 couples did the perfect Italian Kiss.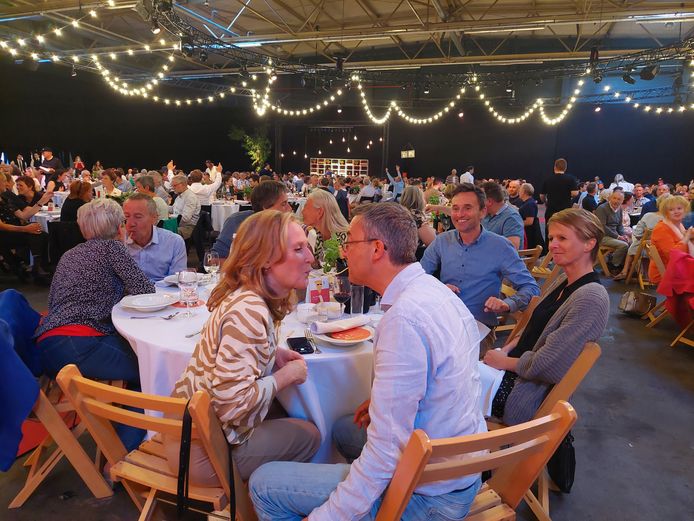 What does that look like? According to the official judge of Guinness World Records, Lena Kuhlmann, the rules are quite strict. The spaghetti strand must be at least 15 centimeters long. It has to be eaten by two people and yes, they both have to eat. The entire strand must be within 30 seconds, and must not break. Striking: you shouldn't kiss at the end, but most couples in Flanders Expo did that anyway.
With 1,600 invited guests, the margin on the French record was large, but as an extra difficulty, a maximum of 10 percent of the participating couples were allowed to abstain. The non-participating Upgraders therefore sit against the wall for a while. After half an hour, the 25 officials concluded that the record had been broken.
In addition to a great company party all about connection, partly the intention behind the attempt, the evening also functioned as a fundraiser for Upgrade Solidarity. With that fund, Upgrade Estate provided psychological help for Upkot students during the corona crisis.
Free unlimited access to Showbytes? Which can!
Log in or create an account and never miss a thing from the stars.

Yes, I want free unlimited access