45+4′ – Missed penalty – Kerim Mrabti

36 ' – Doelpunt – Michael Ngadeu -Ngadjui (0 – 1)
90 + 4 '- Goal – Tarik Tissoudali (1 – 2)

90′ – Geel – Elisha Owusu

89′ – Free kick goal – Geoffry Hairemans (1 – 1)

88′ – Yellow – Bruno Godeau

85′ – Yellow – Roman Bezoes

75 '- Verv. Jannes Van Hecke by Gustav Engvall

75′ – Verv. Marian Shved door Geoffry Hairemans

67′ – Cont. Vadis Odjidja Ofoe by Julien De Sart

67 '- Verv. Darko Lemajic by Tarik Tissoudali

67′ – Cont. Andreas Hanche-Olsen by Joseph Okumu

67 '- Verv. Yonas Malede by Roman Bezoes

58′ – Cont. Vinicius by Samuel Oum Gouet
Jupiler Pro LeagueMatchday 410-05-2022 18:45
AA Gent also brought the return against KV Mechelen to a good end, although a goal in the 94th minute from Tissoudali was needed to keep KVM from deserved points gain (1-2). Hairemans had only equalized in the 89th minute. If Genk doesn't beat Charleroi tonight, the 1st place in the Europe Play-offs will be from Ghent.
Mechelen – Ghent in a nutshell:

key moment: Just before halftime, KV Mechelen got the perfect opportunity to equalize. After an intervention by the VAR, the ball hits the dot and Mrabti is allowed to take the penalty. Davy Roef chooses the right angle for the umpteenth time and whips the ball out of his cage.
Man of the match: Few real stars in this match. Besides the penalty, Davy Roef was allowed to turn a number of other attempts out of his goal. The goalkeeper kept Ghent straight at times. In the end he had to turn around once after Hairemans' free kick.
Remarkable: The last time that Ghent lost in the Jupiler Pro League on a move dates back to December. The Gentenaars then entered the boat on the field of… KV Mechelen. So today they take their revenge.
Ghent takes a serious option on group win

KAA Gent takes an important step towards group victory in the Europe Play-offs. A sloppy game broke open partly after a goal on a corner from Ngadeu.
A strong Davy Roef lived up to his reputation as a penalty stopper by whipping a penalty from Mrabti out of his goal just before half-time. After the break, Mechelen remained the better team and they also had the best chances. Just before the start of injury time, substitute Geoffrey Hairemans still rewarded his team by kicking a free kick over the wall into the goal.
In the spectacular stoppage time, the match was still decided in Ghent's favour. KV Mechelen went all out for the win and left a lot of room for a quick counter. That punished a clinical Tissoudali mercilessly. On a pass from De Sart, the Moroccan passed goalkeeper Coucke.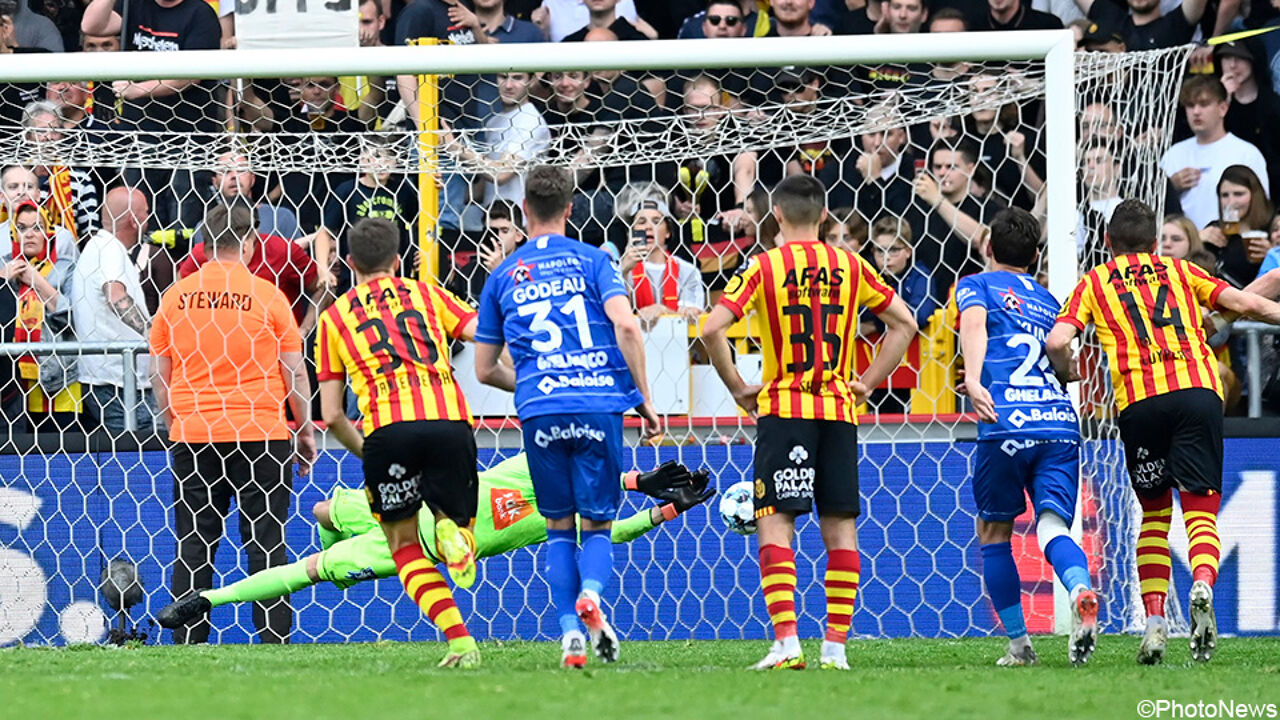 Gaëtan Coucke: "Just like in Ghent, we were better and we are beaten on a stationary phase"

Michael Ngadeu (Gent): "It was a tough match against a strong Mechelen. In the final phase it was all hands on the mind, but I am very happy that we were able to win the game in the end."
Gaetan Coucke (Mechelen): "It was a strange game. Just like in Ghent, we were the better team, but we are beaten again at a standstill phase. That is very frustrating for a keeper. At the end we get the lid on the nose because we are full for went on to win."
Hein Vanhaezebrouck (Ghent):

"There is something special in the air here in the province of Antwerp. When you see how the fans of Antwerp are enthusiastic, even with a 0-4 behind against Anderlecht, and how enthusiastic those of Mechelen were, the whole match, even after the 1-2 and the defeat. That's a boost for all supporters across the country. That's to support. That should be the case everywhere, unfortunately it isn't. That struck me. Congratulations to both teams: Mechelen wanted to show something for his audience, it played as if it were a final. But we also in our 58th match, so we were perhaps a little less fresh than Mechelen at the end. Like Mechelen, we don't really have anything anymore to win, we already have the best European ticket, but we definitely want to play the game correctly and go for that first place. I am proud of the surrender of my players."