Liverpool have their ticket for the semi-finals in the Champions League in their pocket. After the first leg, it should never go wrong again against Jan Vertonghen's Benfica and that did not happen. Klopp started the match with a B-team and Liverpool got a little anxious due to a final offensive by the visitors, but the 3-3 draw was enough.
Liverpool-Benfica in a nutshell

key moment: After a mediocre opening phase, the match was broken open after 20 minutes by a goal from Liverpool. Konaté put the 1-0 on the scoreboard with a header. Barely a minute later, Nunez took the wind out of his sails with the equalizer. But the goal of the Uruguayan attacker was rightly disallowed.
Man of the match: Konstantinos Tsimikas was inimitable today on the left wing. He signed for 2 assists. He took care of Konate's 1-0 and Firmino's 3-0.
Statistics: Liverpool have reached the semi-finals of the Champions League for the 12th time. No English club has reached the last four more often than The Reds.
B-team starts with difficulty

Jurgen Klopp took a gamble with a B-basic team. Compared to the first leg, he had strong holders such as Salah, Mané, Van Dijk, Thiago and Fabinho start on the bench.
The pace was not too high in the opening phase. Liverpool did put pressure and the possession of the ball was also for the English. But that did not create any chances in the first minutes of play.
In the 21st minute, Tsimikas brought in a corner in the box and Konaté headed the 1-0 on the scoreboard. Just like last week in Lisbon, Liverpool opened the scoring early with a header from Konaté.
A minute later, Benfica equalized, but the goal was disallowed for offside. Ramos was able to make it 1-1 before half time with a shot from far.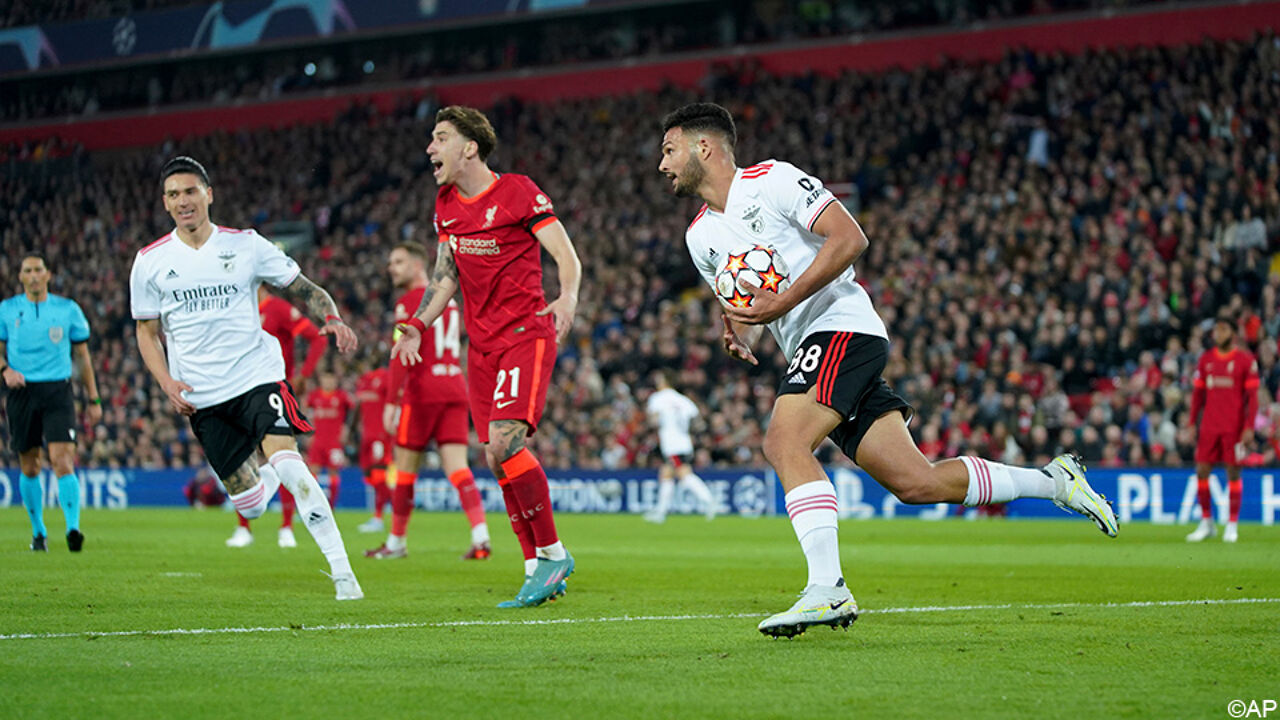 Liverpool gets the job done

After the break, Liverpool put things in order after a lesser ball test by Jan Vertonghen with a double by Firmino. Salah, Fabinho and Thiago came in afterwards.
The loot appeared to be in for The Reds. But Benfica wasn't about to give up just like that. Fifteen minutes before the end, Yaremchuk passed goalkeeper Alisson and moments later Nunez made it 3-3.
Both goals were initially disallowed for offside, but VAR intervened twice. Suddenly it was right.
But Liverpool did not panic. A stunt was no longer possible for Benfica. Liverpool will face revelation Villarreal in the semi-finals.