If they didn't know who the mother of Michael Morales Hurtado, the Ecuadorian fighter who won his first fight in the UFC (Ultimate Fighting Championship) in view of Trevin GilesToday they know her inside and outside the country. This thanks to a video that went viral and that is now in millions of telephones, where Mrs. Katty Hurtado a singular motivation is sent with some "bad words".
Behind the character is a proud mother who is happy to see her son gaining ground in the soccer tournament. mixed martial arts most popular in the world, that there is no longer just one compatriot in that league, but two. The curious thing is that all this is not strange for Katty, because she has been judo athlete from the age of 7 and currently works at the Sports Federation of El Oro as a combat sports methodologist.
Without public the match of the Tricolor against Brazil and the Yellow Night
Read more
Katty's "download" to Michael is not recent, since she always motivates him before going out to the octagon. "My son called me at 07:00 and told me he was a little nervous, that's when I get serious and tell him: 'Look, "ch… from your mother, I gave birth to a male with eggs, well done…., so give it everything. You wanted that sport, put ñeque in it,'" says Doña Katty with a big smile, who then gave a speech similar to a television channel and went viral. She had planned to travel to Guayaquil on the night of this Monday, January 24, to receive her son, who reaches Ecuadorian soil.
in confidence with EXPRESSHurtado says that this way of "motivating" Michael was to remove his fears. After the fight everything was crazy. ensures that Sunday night his cell phone did not stop ringing, friends and family had seen her in the viral video and could not believe the revolution that her speech caused.
"They asked me if I had done TikTokI told them no, but it was already rolling everywhere. I never imagined that fame would come to me with those profanity, because they were not insults. Now my friends laugh and they even have the sound of the phone, "hurtado expresses with a laugh, who this Monday on the street greeted more people than usual, as they approached her to congratulate her on her son and ask her about the video.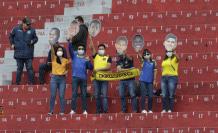 Without public the match of the Tricolor against Brazil and the Yellow Night
Read more
Sports Michael has it in his veins. According to the records, Katty was a judo athlete in El Oro until 2019, however, says that it is about dare to return to competitions in 2022.
The mother recounts that when Morales was little she took him to a soccer school, but nothing happened. Then he got into judo, but it never crossed his mind that fighting arts mixed martial (MMA) they were to be his destiny.
"I see it and I don't believe it, Michael was a quiet boy, in the fights he was very tearful; It really was tearful. I remember that his brother hit him and he cried," says the emotional mother, who adds that At the age of 15, his son fully decided to fight and since then his face has memories of the scratches.
"I told him that you don't have to cry, don't be a coward; give him arrechera, he always told him", explains Hurtado, who several times healed the fighter's face, especially after the first fights that were with his brother Allan, who left him crying.
Currently, Katty is a happy mother and she laughs because the bad words have made her famous; says that in reality she is not like that, that sometimes it is even worse, but makes it clear that it is always to motivate your child, not to offend him.
Every time he can, he highlights the dedication that Michael has had throughout his short career. He says that every day he advises him to never stop and always remain humble. And true to her style, she sends a phrase that encompasses everything she is experiencing: "This is crazy, I didn't even think so much beauty, I'm happy for everything that is happening to her," says Katty, who in addition to Michael is a mother from Allan and Victor.