Had he been buried too soon? The question needs to be asked. In full swing with Anderlecht for a few weeks, Yari Verschaeren must savor this return to the fore. Decisive against the Beerschot, he planted the first double of his young career. And confirmed that in football, everything can sometimes go very quickly. Because just a few months ago, the smile was only a facade in this eternal optimist, stuck on the sidelines of Vincent Kompany.
15 starts in 21 matches. On paper, Yari Verschaeren's statistics in the Pro League this season are far from starved. They even testify to a real confidence on the part of the staff branded Kompany.
Except that when we dig, we realize that they can be misleading. Verschaeren is an important member of the Brussels system, that is undeniable. But he is not yet the immutable captain he would no doubt have hoped to be.
The proof, between August and the beginning of December, Verschaeren played an entire match only… 2 times (out of 16). Substituted during the match, up to the game for the last half hour, Mr Yo-Yo oscillates between the field and the sidelines. Frustrating refrain for this football hungry: "Je gives me 5 or 6 out of 10 for my start of the season. I was on the bench too often. Me, I'm only satisfied when I play almost every game. Obviously I'm happy when the team wins, but I also think about my statistics " he recently analyzed in the columns of Gazet van Antwerpen.
1 goal, 2 assists in 3 months: disappointing record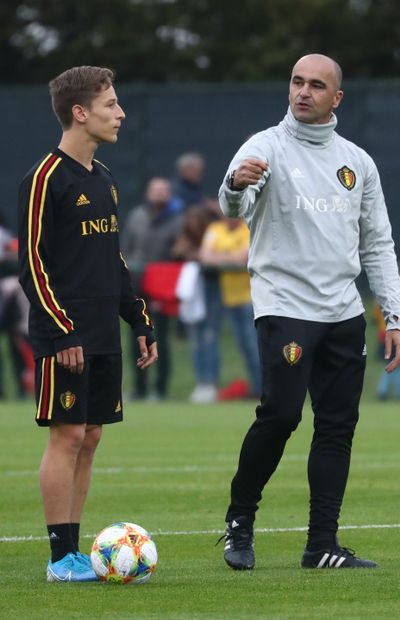 Statistics at half mast which probably cost him a more important role. Voluntary but still a little too short physically, inspired but too little decisive (1 goal, 2 assists between September and December), Verschaeren chases the level that was his before his heavy ankle injury in 2020. This level that had made of him one of the most intriguing promises of Neerpede and one of the darlings of Roberto Martinez.
But nothing helps and like a youth down pedienne sometimes too naive, he runs after a semblance of continuity in the field. As a result, confidence takes a hit. Verschaeren is present in the game but no longer has that zest of recklessness and vista that made the salt of its encouraging beginnings.
Evicted from the fold of the Devils since the end of 2020, he therefore eats his black bread in silence, waiting for better days. A revival which occurs suddenly, while an Anderlecht in clear progress but too erratic, connects the draws.
Aware that something must be changed, Vincent Kompany is relaunching Lior Refaelov and Yari Verschaeren. Two distributors, two ball handlers. Two men with similar profiles who like to have the game in front of them. And so many reasons to step on each other's toes.
Yari, the Beerschot is crying
But Kompany's daring pays off and the two-distributor system is paying off. Olsson and Cullen subscribers to thankless tasks, the explosive tandem Refaelov-Verschaeren can focus on what he does best: trying to settle the game on a gesture, a well-felt pass. And if the Mauves' offensive organization is far from perfect, the figures speak for themselves.
Since the two men are indisputable holders (December 5 at Zulte), Anderlecht has just planted 22 goals in 6 matches (3.6 goals / match), in all competitions. More generally, the Mauves have shaken the nets 50 times in 21 Pro League matches, one less time than… over the whole of the previous season.
It is obviously not all to the credit of Verschaeren alone, but it is clear that the current good series of Sporting also bears the seal of the young Brussels ket. A Verschaeren which relishes and emphasizes the contribution of Lior, the big brother, by his side: "We get along well. Line us up at the same time and something can always happen. I never doubted it. We found each other. We swap a lot, it destabilizes the defenses. I learn a lot ".
Decisive passer in the Cup against Kortrijk, opportunistic double scorer against Beerschot, shave rises from its ashes at the best of times. Less than a year from the Qatari World Cup. So, can he don the surprise guest cloak as Januzaj or Origi had done before him? It may still be too early to tell.
But one thing is certain. While he seemed to be losing ground a few months ago, the young Belgian has regained his faith and a smile. And this place among the 23 Devils, which seemed more than utopian just a few weeks ago, is once again possible. Far from being guaranteed but again possible. Still it will now be necessary to confirm. And that is perhaps the hardest part.