Your NBA TV program is well and truly loaded tonight on beIN Sports with 2 matches namely Warriors vs Suns (beIN Sports 1) and Lakers vs Kings (beIN Sports 4).
In addition, hereafter the complete program:
Toronto Raptors 01h30 Memphis Grizzlies
Brooklyn Nets 01h30 New York Knicks
Phoenix Suns 04h00 Golden State Warriors
Portland Trail Blazers 04h00 Detroit Pistons
Sacramento Kings 04h00 Los Angeles Lakers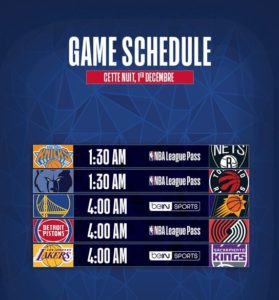 What is happening in Tunisia?
We explain on our Youtube channel . Subscribe!