Adil Belgaid, internationally recognized judo champion, who was confronted with the actions of boxer Zakaria Moumni, delivers disturbing testimony to Mondafrique in the case which has caused a serious crisis in relations between France and Morocco.
The former boxing champion Zakaria Moumni, accused of fraud and detained for this reason in Morocco for several months, was finally pardoned by King Mohammed VI for the sake of appeasement. "Light-contact" boxing champion in 1999, the sportsman who resided in France nevertheless lodged a complaint in Paris after his release for torture he claimed to have suffered in Moroccan prisons. French justice had not followed up on this procedure.
In recent times, the business has rebounded. A video is circulating on social networks which shows Zakaria Moumni trader, in the company of his then wife, Taline Sarkissian, with a representative of Moroccan power, the price of his silence. Hence, since then, many accusations in Morocco and elsewhere, against Moumni including that of Adil Belgaïd, who present the former boxing champion as a blackmailer.
Long protected by many humanitarian and media networks in France, the former boxer now wishes to take refuge in Canada by highlighting the inability of the French to ensure his safety. Unless, according to a hypothesis put forward by Adil Belgaïd, that the former boxer, in line with the French services, has been too greedy in his financial claims.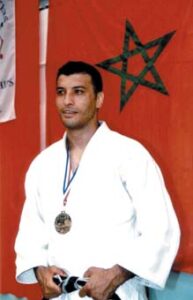 "The shameful methods of espionage of Morocco by France"
Mondafrique. Zakaria Moumni says that it was you who pushed him to agree to lead a sports club in exchange for his silence on his alleged torturers. Are you "an emissary of the King", as the former boxer who does not carry you in his heart affirms it?
Adil Belgaid. Regarding Moumni's persistence in deceptively dressing me as "King's emissary", I refer you to the full explanations that I provided in the video recently released by the Moroccan site "Al 3omk", which exposed all the turpitudes of Moumni and his ex-wife.
Mondafrique. What do you say after the publication of documents in 2014 by the famous hacker Chris Coleman, which revealed the existence of several exchanges between you and one of the main Moroccan services?
Ali Belgaid. Everyone knows today that the famous hacker, Chris Coleman, is only an avatar of the French secret services (1).
The disclosure of the documents by this hacker in 2014, the same year that Moumni filed a complaint against the Moroccan authorities, reveals without a shadow of a doubt, the shameful espionage he was (or still is) France, against one of its most loyal allies, Morocco.
The documents, which were leaked by this hacker, were sucked from my Black Berry, the phone I was using at the time.
These documents simply testify to my deep loyalty to my country, and my determination to invest in the defense of its territorial integrity.
Mondafrique. You are Franco-Moroccan binational. Does your heart incline for France or Morocco?
Ali Belgaïd The love of my native country, Morocco, is part of my DNA, unlike others who have chosen to publicly deny the nationality of their country of origin, by tearing up their passports live on French television like the Zakaria Moumni did, all ashamed. These renegades have chosen to throw themselves into the arms of circles hostile to the interests of their country of origin, in order to extort funds.
Binational, of course, I must note the attacks carried out against Morocco from Paris. We are unfortunately witnessing a relentlessness of the French media against the Moroccan security services. This summer, numerous charges were brought against Morocco in connection with the Pegasus case, the Israeli spyware, under the cover of a few humanitarian pharmacies.
Mondafrique. Do you think that Zakaria Moumni is participating in this disinformation operation led by France?
Adil Belgaid. It is plausible. Zakaria Moumni should tell us in all honesty under what circumstances he could have been approached by the French services to denigrate Moroccan institutions. This does not prevent the latter from chasing the boxer today like a kleenex.
The fact that Moumni is now claiming political asylum in Canada, alleging that France is unable to ensure his security, shows that there is a "casus belli" between Moumni and France. . Perhaps he tried to blackmail the French services and extort funds from them. It's a hypothesis
(1) Good connoisseurs of Franco-Moroccan relations are convinced, not without good reasons, that the disclosure by a supposed whistleblower of internal documents to Moroccan external services was a targeted operation by the French DGSE determined to take revenge on the publication in the Moroccan press of the identity of one of its agents in Morocco.
.