22′ – Yellow – Rob Schoofs

20′ – Yellow – Youssef Maziz
90+1′ – Yellow – Joachim Van Damme

88′ – Yellow – Sheldon Bateau

78′ – Cont. Rob Schoofs by Onur Kaya

78′ – Cont. Ferdy Druijf by Joachim Van Damme

76 '- Verv. Ibrahima Cissé door Marius Mouandilmadji

71 '- Geel – Ibrahima Cissé

65′ – Cont. Samuel Oum Gouet by Jordi Vanlerberghe

64′ – Goal – Hugo Cuypers (2 – 0)

62 '- Verv. Gérald Kilota door Antoine Bernier

61′ – Yellow – Lucas Bijker

60′ – Cont. Geoffry Hairemans by Hugo Cuypers

58′ – Goal – Ferdy Druijf (1 – 0)

49′ – Geel – Mansoni Sambu
Jupiler Pro LeagueMatchday 2127-12-2021 18:46
Seraing has suffered a 5th defeat in a row in Mechelen. KVM knocked out the visitors in the 2nd half with 2 goals in 6 minutes. After the match, Seraing ended the collaboration with coach Jordi Condom.
KV Mechelen – Seraing in a nutshell:

key moment: Just before half-time, Maziz curls a short corner kick dangerously towards the goal. Coucke has a brilliant reflex at home.
Man of the match: KV Mechelen can light a candle for Gaetan Coucke. The goalkeeper kept his team upright 5 times before KV Mechelen started to score.
Remarkable: For the first time in 10 matches, KV Mechelen has once again got a clean sheet. No coincidence that that is against Seraing, because the newcomer in 1A has already failed to score in the competition 5 times in a row.
View the goals from KV Mechelen – Seraing (2-0)

Seraing encounters Coucke 4 times, KVM strikes after the break

Up to 4 times, Gaetan Coucke kept KV Mechelen right before the break. Especially at the 4th chance of shooting, a goal attempt by Maziz, the goalkeeper shook up a great save.
KV Mechelen was not under the market. Taste maker Mrabti had signed out sick for the match. Schoofs – just back after a corona infection – did not give home in the 1st half.
When Coucke – he again – after the coffee unpacked with a cat jump at an attempt by Jallow, Seraing got the lid on the nose.
Druijf headed a cross from Swers against the ropes. 6 minutes later, Cuypers, who had just come in, made it 2-0 after a nice preparatory work by Storm.
Seraing was thrown off balance and couldn't get over that double blow. Marius still came to sniff the 2-1, but his header exploded on the crossbar.
The 5th defeat in a row was also the last match of coach Jordi Condom. Seraing reported after the game that the club is ending the collaboration.
Condom remains lonely after dismissal: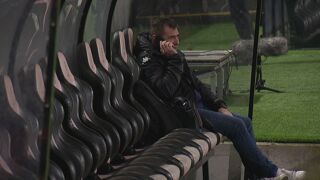 Cuypers: "Getting used to playing without an audience again"

Maziz tries with a rabona, but his pass doesn't arrive: