Benjamins: Sector 1
Quentin's analysis :
This Sunday, December 12 took place the sector 1 youngest.
First official competition of the year for most of our judokas, allowing them to qualify for the departmental championship.
For this first sector, 10 of the 13 youngest members of the club made the trip to face the competition and to defend the club's colors.
Among these 10 judokas, we had 2 daughters, Emna and Guilia. They had the same route during this competition. 1 victory and 2 defeats do not allow them to join the final table of their categories.
In boys, Léonard and Noam fail to win one of the 3 bouts in their pool. Nevertheless, the desire and the attitude required for this type of event were present. Now we have to work on technique at the club.
Artiom, Aurelian and Luca have a background similar to that of the girls. Only 1 victory out of 3 fights which do not qualify them for the table. They must gain confidence in their judo to flourish on the tatami mat.
Florian and Mathieu, in the same category, managed to get out of the pool after 2 victories, but they do not manage to fully use their judo from the first round of the final table and are therefore eliminated. They must be more aggressive from the start of the fight so as not to be overwhelmed by their opponents.
Finally, Leo, our featherweight managed to finish 1is in its category after 2 victories in a pool of 4 judokas. Despite a difficult start due to stress, he found the resources to allow him to shine in other fights. Well done.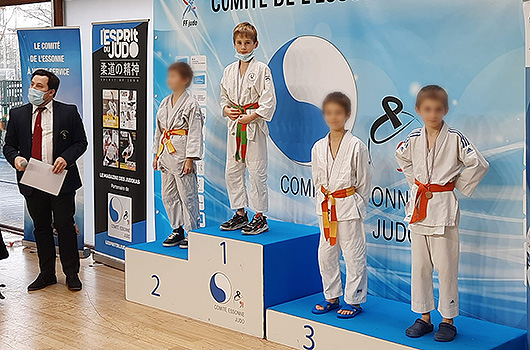 © Judo Club d'Igny – 12/12/2021
.