Updated:
Keep

Dione Alex Veroneze is above all a brave man. On the parquet, where he never hesitated to face or go to the crash, and also off the slopes. Under the nickname of Battery, this Brazilian from Palmitos, treasures at the age of 31 a career out of the ordinary in futsal. Because of the importance of the teams he has gone through but also because of his ability to overcome difficulties. Those derived from the injuries and also those that caused the decisions that shaped his path. "I would never change anything," he says, recalling a trajectory that has led him to Valdepeñas, a town of 30,000 famous for its wines, but one that has grown into sport in recent years after his team sneaked into several finals that narrowly missed.
Among the spirited fans of this La Mancha town, which makes the Virgen de la Cabeza a fort every weekend, the player is happy as he works to reach his best level and the team is second in the league, only behind the almighty Barcelona.
"We are enjoying a lot, the players, coaching staff, management, fans … It has been a good season but we are aware that what is important is what is coming now, where we have to enforce what we have done," explains Battery. «The team has already shown before that it has been able to get there, to fight. From there there are other issues that can lead you to win or not, but it is true that the club wants to take that step and win something, and I think it is not something from another planet.
Battery, fully integrated in Spain, ensures that he always followed the La Mancha team for their sporting successes and "for how they live futsal." Thus, when coach David Ramos contacted him and expressed his illusion for having him, "also understanding the situation that I had been in France for two years without competing at the highest level," he did not hesitate and packed his bags.
Now I feel very comfortable. I really value where I was a few months ago, where I am now and what I can achieve here. My family is happy and I am happy because I am playing in a place that I like. I'm excited to go every weekend to play and fight for myself, for my family and for these people who are so passionate about futsal, "he is sincere, recalling other stages of his career that were not so downhill.
Precocious idol
Battery He came to the Spanish league when he was only 20 years old, "When I started to play in Brazil and with a still significant room for improvement." He made a name for himself wearing nothing less than the Movistar Inter shirt, in which he became an idol. Until he seized the opportunity that Barcelona offered him, a bet that nevertheless did not go well in sports, since his Barça stage coincided with the dominance of Inter by Ricardinho, or personally due to injuries.
"It was a super difficult decision but at that moment we believed it was the best. That I was injured later at Barça, yes, but it could have also happened at Inter. But I would not change anything, because in my career each decision was well thought out, discussed with my family and with my representative, and we always looked for what we thought was best every moment ", he explains about a signing that cost him endless chants and insults. Hard times? Yes and no. Once you make a living from this you know that you can face things like that. What fans do not understand many times is that we are employees, we have a life, we depend on this, and if we have a better offer, be it economically, structurally, with new goals for your career, you change. As a hobbyist, you change companies when you receive an offer from another company. I'm not going to lie and say that they entered one ear and left the other, because you take something negative with you. But I have always focused on what I can control. That he couldn't control and he tried to handle it in the best possible way. I understood, as one more fan, that my decision had hurt them. Now that time has passed I return to the Inter court and people welcome me with affection ».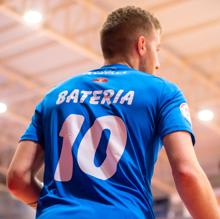 After frustrating the injuries his time at Barça, Drums returned close to home to play for Cresol-Marreco, "the best decision because it was the best to put things in their place, to take my time, something that cannot be done in a club." Then came Cartagena, where a meniscus operation was interposed, and the bet on a second-rate team in France. "When I got there I did not play for Covid for a year and everything did not turn out as I imagined, but I had an interesting life experience before coming to Valdepeñas." "And of all this I would not change anything," he insists.
Hard times
The key to getting through the bad times was «understand how to manage situations and try to adapt to each moment: injuries, returns after being injured for a while … Like now, I can't demand from my body after two years what I did with Inter, Barça or even Cartagena. I must understand that now I have to adapt to the team's game, perhaps use tools that I did not use before, so that my body recovers that physical and even mental part of day-to-day competitiveness for, from there, at the moment in which be one hundred percent take a little step forward in other things that I was doing ».
"I was two or three months with a kind of sports 'coach' who was just starting out and contacted me, but after that time he told me 'go ahead because you are mentally made a rock,'" he recalls. «I have also had a lot of family help. For them I also made the decision to go to Brazil after leaving Barça. I was next to home, close to my family, my first daughter had just been born. And I've always had a lot of help from home, from my parents', friends, a partner, people who really support you on a day-to-day basis and it shows ».
«I came to enjoy futsal»
«I never stopped trusting in my possibilities nor did I think about leaving futsal. At some point you doubt whether you can play again with the intensity that is played today, but you keep working, fighting day by day and you keep improving. I always say that with work always comes the reward, be it small or big, "he adds. «Those who know me know that I am not yet at my best level, but I am giving one hundred percent everything to gain minutes and importance within the team. From there you have to go up the steps and hopefully I can reach the decisive stage at my highest level in every way ».
Battery shows the illusion in his voice: «I am very happy here, right now I am not considering other destinations. With the club we talk about another year and another and we are already looking at it. I came to play, to take on that day-to-day dynamic, to enjoy futsal again, and from then on destiny is something that I cannot control. People treat me in luxury and They have been fighting for important things here for three years, something that I have always sought in my career. I would be delighted ».
See them
comments
.