JAKARTA, KOMPAS.com – Many people think that the feud between Valentino Rossi and Marc Marquez started because of the Sepang Clash or the incident at Sepang. As it turned out, the dispute between the two had already started before.
Before the Sepang Clash, Rossi and Marquez were known to have a pretty good relationship as rivals. The two of them are still throwing jokes and laughing at each other while sharing the podium.
Also read: Yamaha Releases R1 GYTR Special Edition, Tribute to Valentino Rossi
However, everything immediately changed drastically after the incident in Sepang. At that time, Rossi, who was competing for the world championship with Jorge Lorenzo, felt blocked by Marquez.
GP Sepang 2015
According to Rossi, Marquez deliberately restrained his motorbike when in front of Rossi. Thus, Lorenzo, who was in front at that time, would benefit by gaining more points.
Rossi, who was fed up with Marquez's attitude, finally squeezed Marquez out of the racing line. The two collided and Marquez fell.
Get information, inspiration and insight from email you.
Register email
Also read: Right Hand Technician Valentino Rossi Becomes Crew Head of VR46 Racing Team
This incident also reap the pros and cons. Many say Marquez fell because of his own actions. Some said it was Rossi who kicked Marquez until he fell.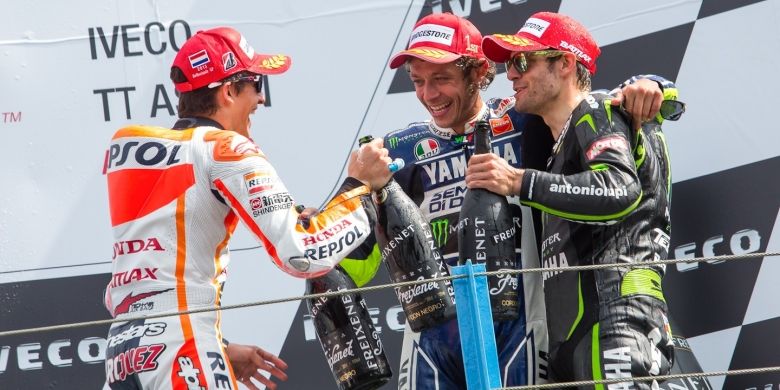 Italian rider Valentino Rossi (center) celebrates his victory with Marc Marquez (left) and Cal Crutchlow at the Dutch Grand Prix podium, Saturday (29/6/2013).
According to Lorenzo, the dispute between the two had started since the race at the Termas de Rio Hondo Circuit, Argentina, in the same season. At that time, Marquez fell because his front tire was hit by Rossi's rear tire.
"Between hate and love, there is a very thin line. It makes it impossible to make friends with opponents. One of the keys to the championship is Argentina in 2015," said Lorenzo, quoted from Tuttomotoriweb.it, Saturday (11/27/2021).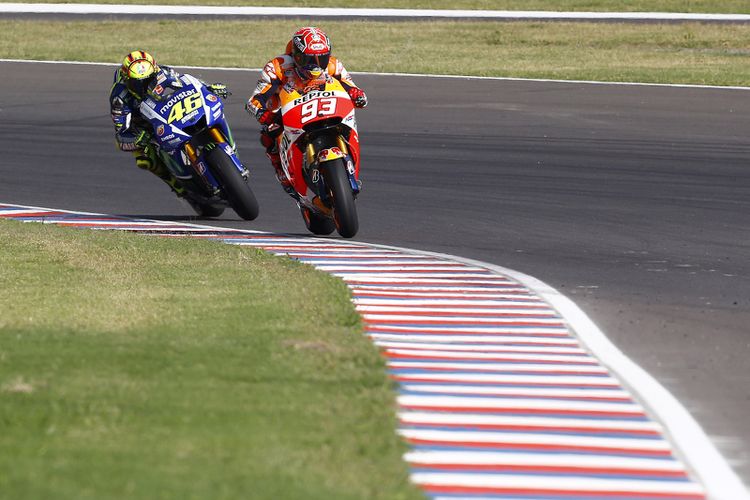 Argentina GP 2015
"There, Marc thought it was Vale's fault. They had a good relationship at the time and I think Marc was annoyed when after that Vale didn't come to him to ask how he was after the fall," he said.
Rossi briefly shook Marquez's hand when both of them were on the podium a few seasons after the Sepang Clash. However, their relationship is still cold until now Rossi has decided to retire.
Get updates news of choice and breaking news every day from Kompas.com. Let's join the Telegram group "Kompas.com News Update", how to click the link https://t.me/kompascomupdate, then join. You must first install the Telegram application on your cellphone.
.