Last year, in September, came out in a remastered version one of the most popular FPS on PC of 2007: Crysis. If the title of Crytek had kept its strengths in this remastered version, unfortunately for him, our test was not conclusive, the fault in particular to great fluidity concerns making the experience almost unplayable on Xbox One X to our greatest regret. Today, a year later, the publisher offers us this time to (re) dive, not in one but in the three parts of Crysis: Crysis Remastered Trilogy. The opportunity for us to come back to this license, but also to see if the first Crysis has undergone beneficial alterations during this time.
Small important clarification to make before starting, although these components were not released directly on New-Gen machines and do not have an Xbox Series X name (our test support), the three Crysis titles have nevertheless been optimized. and improved for the latest Microsoft and Sony. Optimizations which change several points as you will be able to see it in the next paragraph, but first let us make a brief reminder on the first title which was in our hands last year, then on the following ones.
– Informations Crysis Remastered (1) (Xbox One X) –
The same scenario
We find ourselves once again in the company of Nomad, a trained soldier with advanced technologies integrated into his Nano-suit. The latter was sent to the fictional archipelago of Lingshan with his teammates in order to save researchers. In order to achieve this, we will have to get rid of the Korean People's Army standing in their way.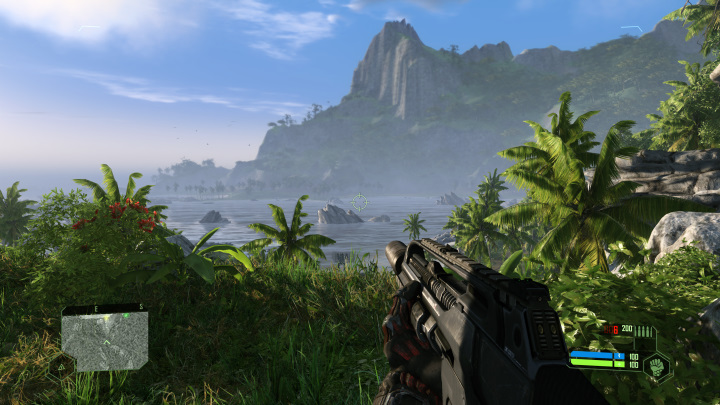 The base keeps its charm
Several things characterize the gameplay of this particular FPS. In addition to the traditional shooting to defeat his enemies, multiple guns and the possibility of equipping a weapon duo, the nano-suit has several subtleties with temporary effect. For example, you can be invisible using camouflage, use a shield, have an accelerated running speed, jump high enough or increase your physical strength. But like other games released after him (Vanquish,…), each action is governed by a rechargeable energy represented by a specific gauge. It can therefore be emptied entirely or used in small doses.[…]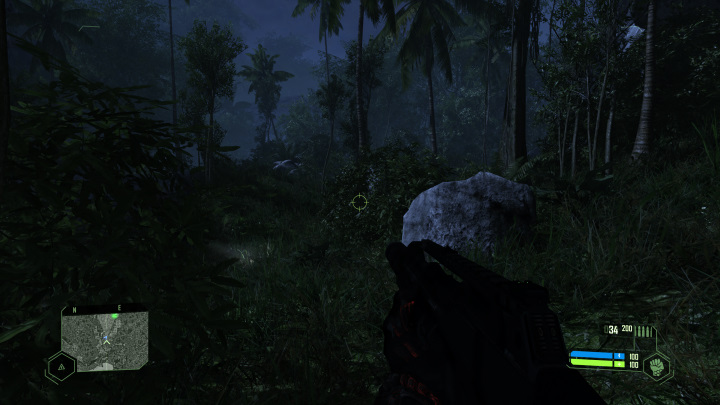 These abilities are realized in a universe sporting a construction of a semi-open world style Far Cry. This wild island indeed allows a half-free exploration, understand that the exploration is quite correct in terms of area and allows the use of several strategies against its opponents. If it remains nice on foot, there are also various phases on board vehicles, but all is not rosy on the Archipelago. Read the rest of the test.
Three games, three identical gameplay, pure Crysis
Compared to its predecessor, Crysis 2, following on from the first opus, was released in 2011. Without spoiling the story, this second part drastically changes scenery by taking place in New York, a city in ruins and devastated. This big change from the early tropical island allows access to some great rooftop fights. Speaking precisely of fights, the gameplay of this opus keeps the general formula established in the first Crysis which will then be reused in Crysis 3. Needless to say that the nano-combination and its different powers can quickly get you out of many situations! It is therefore a title that is still as nice to play for people who have known it both on PC and on Old-Gen consoles.


Finally, Crysis 3 is more of a "bonus" perhaps because the lifespan is shorter, count about five hours is about half as much as the two previous parts. In spite of this, the return of the traditional base of the series (nano-suit, collectibles to find, …), the addition of an arc accentuating the stealth, the mix between Crysis 1 and Crysis 2, as well as the return of ambient vegetation make the adventure rather pleasant.


4K, HDR, appreciable touch-ups for comfort
After having toured the three episodes, it is obviously appropriate to talk about this remastering and technical part of this trio. Clearly, there is no picture, playing the first game on Xbox Series X instead of an Xbox One X has a serious advantage. From now on, we are no longer bored by this framerate coughing all the time, the software here is much more fluid, much more pleasant. Moreover, the following two Crysis take the same example with a framerate that does not flinch.


Visually whether it is Crysis 1, 2 or 3, HDR and 4K are there, needless to say that if we do not take a graphic slap, visual comfort is present with reworked lighting effects, just like textures or those of the faces, relatively thinner. For our part, episode number 2 seemed to us the most successful on these technical features, while the other two have aged a little more.
On the other hand, and here it is a regret concerning us, we would have liked this re-release to be accompanied by additional bonuses such as new missions, which is unfortunately not the case… The products are just raw with the improvements mentioned more high.
Tested on Xbox Series X
A year after the release of the remaster of the first opus, the three Crysis components are emerging by taking advantage of the Xbox Series X contributions, even if they do not have the appropriate optimization logo. We are not going to procrastinate, the titles have improved with graphic and technical improvements, while remaining Crysis fun to play and especially more fluid. No doubt you will enjoy the experience with your nanosuit whether you are new to the series or used to it. Too bad, however, as we have just said a little above, that this version does not benefit from additional new additions.
.