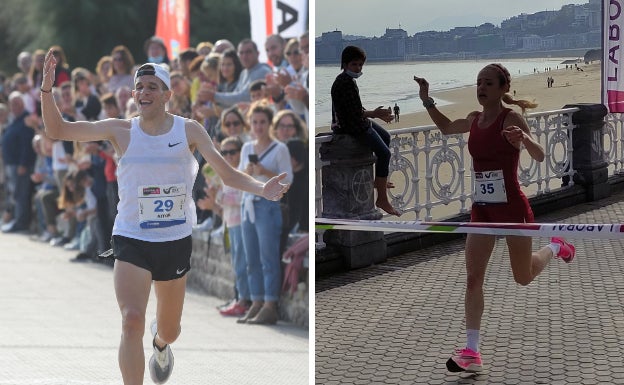 Athletics
The Biscayan and the Donostiarra cross the Cross Tres Playas finish line alone, after starring in large exhibitions
Exhibitions by Aitor Mimenza and Sara Villasante this Sunday at Cross Tres Playas de Donostia. The Biscayan and the Donostiarra have clearly prevailed in the 31st edition of this popular 10-kilometer race starting and finishing in Ondarreta.
The long-distance runner from Elorrio, also a winner in 2019, has lowered his time in this event by almost one minute. 30:16 was his finish time. He was very satisfied with his performance. At 31:46, Rubén Ruzafa, from Aizarnazabal, and at 32:05 Mikel Fernández, from Ezkio.
Despite the humidity, the day in the Gipuzkoan capital was perfect for running. And that has also been taken advantage of by Sara Villasante. Two out of two for this regular athlete on the track, now in the 1,500 meters. Three weeks ago he won the Txingudi Korrika and today he has had no problems at the Cross Tres Playas. 34:55 has scored, dropping from 35 for the first time despite the fact that when passing through the Old Quarter he thought that the sub35 was going to escape. After her came the Oñatiarra Saioa Arkonada (37:40) and the Ordizian Izaro Rubio (37:44).
More than 1,700 runners had registered in this classic of the popular calendar in autumn.
.