Last June, Jaime Fillol turned 75 years old and recently he reviewed not only his tennis career, but also his life: the former national racket revealed that received death threats in the 1970s.
In an interview with Las Últimas Noticias, he recalled a 1975 Davis Cup: a semifinals against Sweden that were played without an audience and with police control. "It was a tense moment. It all started because, after beating South Africa, I received a death threat. They said they would kill me if I was going to play SwedenFillol recounted.
Regarding the author of said threat, the former tennis player stated that "we only learned later that It was the work of a Swedish pastor who was leading a local group where there were some Chilean exiles".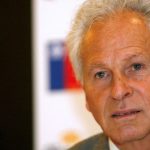 Asked if he thought about not showing up, Jaime Fillol said that "the months prior to the confrontation, the truth is that I did not want to go to play Bastad because the death threats continued ".
"They called my parents at home saying they were going to kill meHe continued. "I lived in the United States and it was my father-in-law, who was of Swedish origin, who convinced me to go play. 'I'll be your bodyguard, these things can't happen in Sweden,' he told me. And that's why I went ".
The revelations, sorrows and joys of Jaime Fillol
However, Fillol did not stop there: "I also had other situations that were never known at that time and that I never mentioned. Actually, I received a lot of death threats while I was a tennis player.".
And he added that "I remember that in Colorado, in Canada and elsewhere they threatened to kill me. They called me at the hotel, yelled at me on the pitch or carried banners against me. I think this lasted until 1978 or 1979. Generally, it was from people from the countries I was traveling to ".
In recent times, Jaime Fillol has experienced two opposite situations: his wife, Mindy Haggstrom, with whom he was five decades, died on July 8 as a consequence of progressive supranuclear palsy.
Now, he will be a great-grandfather for the first time, since his grandson, tennis player Nicolás Jarry, announced that he will be a father.
"One never imagines it, but when these things happen, one feels the joys that life can give. The family is something too important and seeing it grow is a blessing from God, "he said.
.