Jakarta
–
Crazy Rich Malang Gilang Widya Pramana fulfilled his promise to give bonuses to the medalists of the Tokyo 2020 Olympics, including Greysia Polii/Apriyani Rahayu.
This commitment was realized in a ceremony which took place in Jakarta, Sunday (22/8/2021). The six medal-winning athletes received cash and carry prizes, with details of the Greysia/Apriyani women's doubles gold getting Rp 500 million each, the silver winner Eko Yuli Irawan receiving Rp 250 million.
Meanwhile, the three bronze medalists, namely Anthony Sinisuka Ginting, Windy Cantika Aisyah, and Rahmat Erwin Abdullah each received Rp. 100 million. Not only that, all medal winners were also appointed as ambassadors for a beauty product.
Greysia is grateful for the appreciation given by Gilang who is also the owner of J99 Corp. He believes this appreciation from Crazy Rich Malang can be a trigger for other athletes to be able to excel in the international arena.
"We as athletes want to contribute the best for Indonesia. Hopefully this will be a good trigger for athletes everywhere," said Greysia.
Crazy Rich Malang gives bonuses to the medalists of the 2020 Tokyo Olympics, including Greysia/Apriyani. Photo: Doc. KOI
Separately, Gilang admitted that he deliberately gave more attention to the sports sector. Because, sport is the highest form of investment for every human being. By exercising, continued Gilang, the body becomes healthy.
"The spirit is that we want Indonesia as a strong and great country to prioritize sports. For all athletes, don't forget to excel and make Indonesia proud in the world," said the President of Arema FC.
On the same occasion, Chairman of the Indonesian Olympic Committee (KOI) Raja Sapta Oktohari hopes that more entrepreneurs in the country will pay attention to sports achievements like the figure of Crazy Rich Malang. Thus, the increase in the achievement of Merah Putih can be achieved quickly.
Okto, Raja Sapta's nickname, appreciated J99 Corp which gave awards to athletes who won the 2020 Tokyo Olympics medal. This commitment was even stated before the Indonesian contingent competed in the most prestigious multi-events in the world.
"We hope that there will be many entrepreneurs such as Gilang Widya Permana and Sandi Purnamasari in Indonesia because before the medal-winning athletes gained popularity, J99 Corp had provided support by providing bonuses and supporting the Indonesian team," said Okto.
Previously, the Indonesian team also received support starting from preparations for the 2020 Tokyo Olympics, namely providing the best buses for athletes during departure and arrival.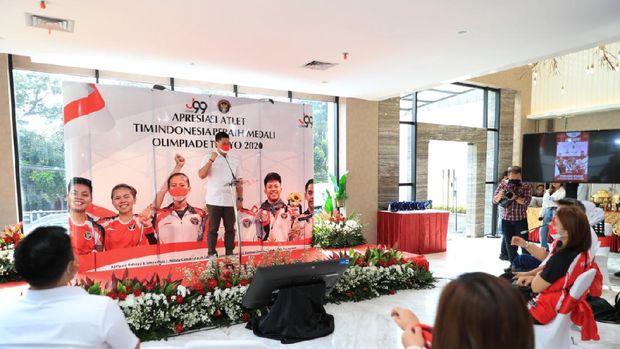 The bonus from Gilang Widya Permana for the Tokyo 2020 Olympic medalists was appreciated by the Chairman of the KOI. Photo: Doc. KOI
(mcy/krs)
.