The SBS Monday-Tuesday drama 'Racket Boys' has been changed to once a week.
In a press release on the morning of the 9th, SBS said, "'Racquet Boys' has decided to be organized once a week due to the schedule change due to Corona 19 and the issue of the Olympics. It will be broadcast at 10 o'clock."
According to an official, the schedule for episodes 15-16 is currently in the process of being coordinated. The program will be decided according to the trend of COVID-19 confirmed cases and the situation of the Tokyo Olympics.
'Racquet Boys' is a challenge for children who dream of becoming badminton idols, and it is a growing drama of 16 boys and girls in a rural village at the end of a land. Delicate and meticulous directing, moving and laughter stories, and characters that seem to breathe, prove the potential of a 'Well-Made Human Drama' and continue to win and win the 12th consecutive Mon-Tuesday drama.
Above all, the badminton game that squeezes the sweat and the delicious lines give crawling laughter, and it is acclaimed for capturing episodes that smell like people, such as love between parents and children, friendship between friends, and friendship between neighbors. In this regard, the scene of the 'Racquet Boys' that made the tip of the nose of the small screen frown with a story that everyone has experienced at least once stands out.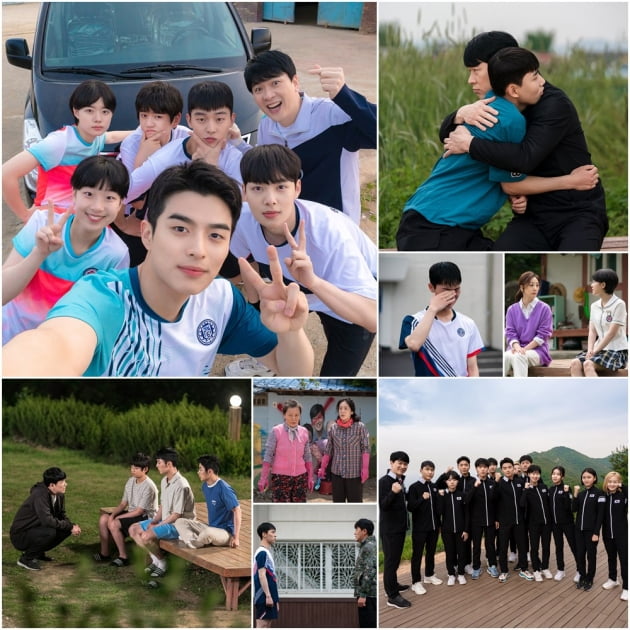 'Racquet Boys' tear gland stimulation moment ①: Parents' love
'Racquet Boys' gave a touching sympathy and lingering feeling by looking back on the relationship between parents and children, which is sometimes neglected because they are so close. Among them, Na Woo-chan (Choi Hyun-wook), unlike the other members, was in a situation where he could not change his father's heart, who was against badminton. However, Nau-chan came to know that his father came to the audience every time he played, and always watched him. Seeing Na Woo-chan turning around and looking at his father's back, he burst into tears at the belated realization stimulated the tear glands of the viewer.
Not only Na Woo-chan, but also Yoon Hae-gang (Tang Jun-sang), who has the world's busiest mother, Bang Yoon-dam (Seon Sang-yeon), the eldest of six siblings, Lee Yong-tae (Kim Kang-hoon), who grew up in a divorced family, and Jeong In-sol ( Kim Min-gi) and others realized that there was support, love, and sacrifice for the maternal mother of the family, whom she had not known before, and gave her heartfelt joy as she grew up a step further. Lastly, Grandmother Wang (Lee Soon-bok), who was worried about her daughter's meal even before she closed her eyes, also made her eyes cry by making her feel the unchanging love of her parents, who are always worried and worried about their children's worries no matter how old or how old. made.
'Racquet Boys' tear gland stimulation moment ②: Friendship between friends
The story of the warm and sticky friendship of the members of the 'Racket Boys' also brought a heartwarming laugh. After Yoon Hae-kang unexpectedly injured his eye, Yoon Hyeon-jong (Kim Sang-kyung) asked the members of the 'Racket Boys' not to contact him for a while while thinking about Yoon Hae-kang's future career. However, the children eventually came to Hae-kang Yoon's house, and Hyun-jong Yoon got angry because he misunderstood that the children had just broken his word to win the game. However, the children choked Hyun-Jong Yoon's words with the candid and plain words, "I just want to play together."
Han Se-yoon (Lee Jae-in) and Lee Han-sol (Lee Ji-won) also showed a mature and pure sports spirit by breaking away from the unconditional sense of competition of adults during the Korea-Japan match. Even adults were surprised by the way he did it. In this way, all children sometimes showed a more mature image than adults, making adults grow up too.
'Racquet Boys' tear gland stimulation moment ③: Friendship between neighbors
Although the villagers are crude, they are moved by conveying the deepest friendship between their neighbors than anyone else. Hong Yi-jang (Woo-hyun), who appears flashing in the east and west when something happens in the village, smiles with a tsundere attitude, leaving her men's shoes in the yard to worry about the new lady (Baek Ji-won) who is alone after Grandma Wang has left. evoked Grandmother of five (Mi-Kyung Cha) also actively helped settle down the village of Ttangkkeut village while shedding other people in the city, and the urban couple (Min-Sung Jeong, Hyo-Joo Park) felt the unfamiliar but friendly feelings of these residents and re-established their will for life. . Mrs. Shin, who had set a deadline for city people and rejected them, also lifted the boundaries and opened the door to her heart, showing a dramatic change in becoming a real neighbor, making the viewers' hearts happy.
The production company said, "I think that the solid story of 'Racket Boys' shines even more when it meets fresh directing and the excellent acting skills of the actors." "The remaining episodes of 'Racket Boys' are also the best to contain a more authentic story. I will do everything," he said.
'Racquet Boys' is a 'Drama Masterpiece' fan entertainment company that has released numerous hits such as 'Winter Sonata', 'The Moon Embracing the Sun', 'Doctors', 'Fight for My Way', 'When the Camellia Blooms', and 'Record of Youth'. took charge of production. Episode 13 will be broadcast on the 12th at 10 PM.
By Jung Tae-gun, staff reporter for Ten Asia [email protected]
© TenAsia, unauthorized reproduction and redistribution prohibited
.