Gilbert Carrasquillo / Brian Babineau
Enterprising in the comments of a recent post by Khloe Kardashian, Lamar Odom has suffered a big scolding from Tristan Thompson. The former 6th Man of the Year responded to the Celtics' pivot following his meaningful statements.
His history, while glorious in the NBA, remains as one of the darkest that fans of the league have followed in recent years. Titled with the Lakers in 2009 and 2010, then crowned Sixth Man of the Year in 2011, Lamar Odom came close to death in 2015. Embroiled in serious drug concerns, the former winger was also going through a difficult time in her marriage to Khloe Kardashian.
After coming out of his coma, and having been able to settle his differences with the young woman in a civilized manner, LO was able to go up the slope. It is now not uncommon to see him frequenting other conquests. This does not prevent him from keeping an eye on his ex-wife, however. One of his comments on a recent hot post of the latter He just earned him a … muscular exchange with Tristan Thompson.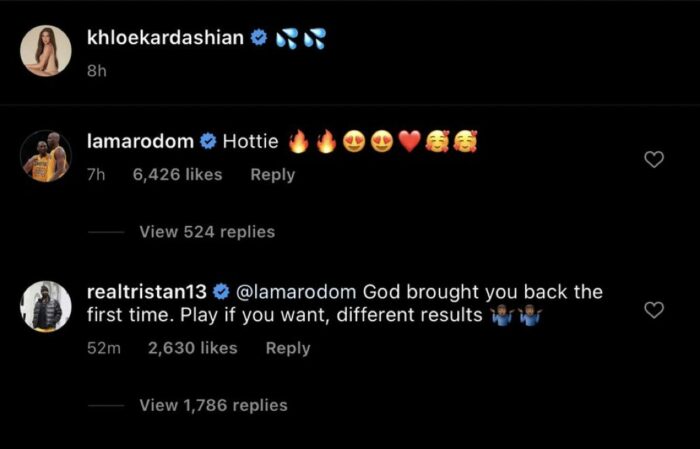 Lamar Odom : You're hot ????????????????❤️????????
Tristan Thompson : God has already brought you back to life for the first time. You can play if you want, but the outcome will be different this time.
Clear threats, to which Odom had not reacted so far. This, until an interview with TMZ the last days.
He doesn't really know me. What did Jesus say? "Lord, forgive them, for they do not know what they are doing"? And since he doesn't really know me… Because it could have gone wrong. He's a black man, he's in the NBA, so at the end of the day we are linked by brotherhood. I will stop there. He made a mistake. I'm not going to say he's stupid, but he doesn't know me.
Faced with the borderline behavior of the big man from Boston, Odom therefore decided to use his maturity to avoid any regrettable overflow. The double champion even ends with very nice words, both on his case and on that of his attacker.
I am no longer affected by words. My armor was built to prevent this. I wish him the best.
Target of a clearly condemnable attack from Tristan Thompson, Lamar Odom prefers to ignore comments from the inside. Enough to pronounce the end of this funny soap opera?