Ukraine only needed a point to qualify for the 1/8th finals, but was trumped by a sharp Austria on Monday evening. Christoph Baumgartner scored the only goal of the match. Roman Yaremchuk and co. have to hope that they can still go to the next round as one of the four best thirds.
The third group match at a European Championship is a bit like Sinterklaas: never a lack of speculation. Before the start of their last group match, Ukraine and Austria were respectively second and third in Group C. In case of a draw, the Ukrainians would continue in second anyway because they have scored more often in the group stage, while Austria has a very good chance with four points and a goal difference of 0. would make to continue as one of the top four thirds. Here and there it was also hinted at a salon draw.
After just a few minutes of football, that theory could be thrown into the trash. The Austrians wanted certainty and opted for the attack from the start. Fall back and count on a draw? None of it. Full throttle and play football. The Austrians were helped by Ukraine, which really didn't get anything done in the first half.
Alaba on the left
Austria was inspired by a strong David Alaba before halftime. Unlike the previous two games, Real Madrid's summer signing against Ukraine played on the left wing, where he clearly feels better. Halfway through the first half, Alaba topped off his match with an assist. Baumgartner tapped in his good corner.
Only flaw in the game of Austrians: a painful lack of efficiency. No fewer than thirteen shots fired by Franco Foda's men in the first half, but barely three of them went between the posts. Marko Arnautovic provided the painful exponent just before the break. The Shanghai Port striker came all alone in front of Bushchan after a nice pass from Sabitzer, but pushed the ball stupidly next to the goal.
Slack Ukrainians
The Austrians played with fire, as Ukraine only needed one goal to jump back to second place, entitling them to a direct ticket to the 1/8th finals.
Only after the break the Ukrainians barely managed to put together a noteworthy opportunity. It wasn't until the hour that Shevchenko's men started knocking a little more emphatically on the Austrian door, but that final offensive was very little. It was even the visitors who came closest to a second goal on the counter.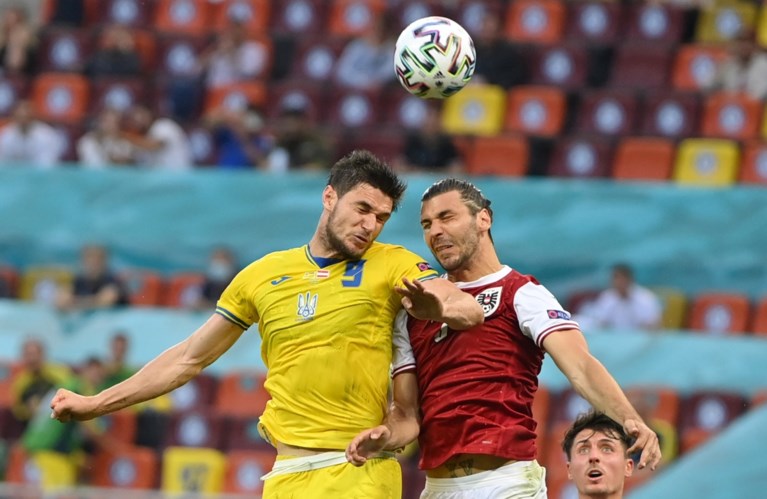 Austria held on, jumped to second place in group C and can go to the 1/8th finals together with the Netherlands, where it meets Italy. Ukraine disappointed, has to be patient a little longer and hope that it can go to the next round as one of the four best thirds.
.