Glasgow
–
The England vs Scotland match at Euro 2020 resulted in a new cluster of the corona virus. Nearly 2,000 cases emerged after the prestige-laden match.
One of the Euro 2020 Group D matches between England vs Scotland, at Wembley Stadium, London, 19 June 2021. The match was enthusiastically welcomed by fans of both countries.
In Scotland, thousands of fans came to London to provide direct support. Not to mention in Scotland itself, where they hold a lot of watching together watching their country face their cognate rivals.
Scottish fans watch the match against England at Euro 2020. Photo: Jeff J Mitchell/Getty Images
After the match, which ended in a 0-0 draw, it seemed that there was concern in the midst of a pandemic. Nearly 2,000 cases of COVID-19 emerged, related to the England vs Scotland match.
According to Glasgow Live, more than 1,990 people in Scotland have been tested for coronavirus and have tested positive. Two-thirds of the cases, or nearly 1,300 cases, are identified because the person went to London to watch England vs Scotland.
Analysis of the Test & Protect Case Management System data revealed that, between 11 and 28 June 2021, 1,991 people normally living in Scotland with a laboratory-confirmed diagnosis of Covid-19, were identified as attending one or more Euro 2020 events during the time of infection. That moment becomes a time where they unknowingly transmit the infection to others. e
Scottish government bodies have flagged a positive case of COVID if they attend an event hosted by Euro 2020, such as a match at Hampden or Wembley Stadium or Fanzone in Glasgow Green.
Fifty-five of those who tested positive were reported to be in the Fanzone in Glasgow Green. Then 38 in Scotland's game with Croatia at Hampden, and 37 in the team's opening game against the Czech Republic.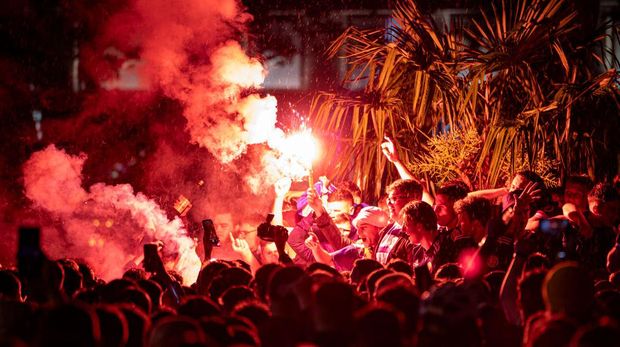 Scottish fans party in London as they support their team against England at Euro 2020. Photo: Rob Pinney/Getty Images
People who test positive after attending an informal gathering, such as a pub or house party to watch a game, are also flagged.
Nearly three-quarters, or 1,470 cases, labeled as Euro 2020, have been suffered by people between the ages of 20 and 39. Nine out of every ten cases are men.
Hospitality places, such as pubs, are areas that are often reported. That represents 34 percent of all places that have been reported.
"PHS (Public Health Scotland) is working closely with the Test & Protect board and the NHS to ensure all public health measures are taken in this close contact of EURO 2020 cases, as part of the 32,539 cases reported to the Test & Protect Case Management System during this period. [11-28 Juni 2021]," the NHS statement said.
(then / krs)
.