The 35-year-old Hamilton scored his fifth success in the seventh Grand Prix of the season and consolidated his lead in the championship standings. He is thus well on his way not only to beat Schumacher in the number of victories, but also to reach the level of his record seven titles.
As in Saturday's qualifying, Hamilton did not give his opponents a chance and reached the finish line less than nine seconds ahead of his Mercedes teammate Bottas. Red Bull's Verstappen, which was the only one to disrupt Mercedes's dominance this year, was 16 seconds behind third.
The Belgian Formula 1 Grand Prix was won by Lewis Hamilton of Mercedes and has 89 triumphs.
John Thys, Reuters
"It wasn't an easy victory. I slowed down a bit in the fifth corner, the bike started to knock and my tire temperature slowly dropped. So I was a little nervous not to end up like in Silverstone," Hamilton recalled this year's second race on the British circuit, where Mercedes have rubber problems. helped Verstappen to triumph.
"We have had a successful weekend, just yesterday Lewis was the fastest and today flawless," said Bottas. "It was absolutely boring. As soon as the Mercedes started to accelerate, I was not enough for them. In the last eight laps I therefore drove to safety and saved the tires," said Verstappen, who loses 47 points to Hamilton in second place.
If Hamilton kept the winning streak, he could equal the record for the number of victories in two weeks at the Tuscan Grand Prix. The race was only temporarily included in the calendar due to the effects of the coronavirus pandemic, and Schumacher's former Ferrari team will celebrate its jubilee 1000th start in the World Championship on its home circuit in Mugello.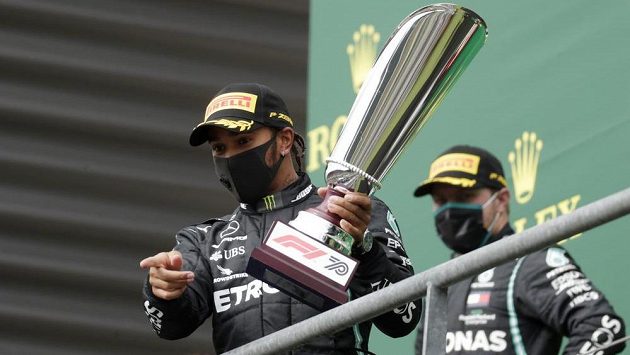 Lewis Hamilton with a trophy for the race winner.
Stephanie Lecocq, Reuters
The Italian team can only remember the successful years with Schumacher this year, because even today his suffering has not ended. Sebastian Vettel, a four-time world champion and winner of the Belgian Grand Prix of 2018, was 13th. Charles Leclerc, who scored his first career triumph at Spa-Francorchamps last year, finished 14th.
Carlos Sainz from McLaren, who didn't start the race at all due to a broken exhaust, didn't do well either. George Russell of Williams and Antonio Giovinazzi of Alfa Romeo did not finish the Belgian Grand Prix either, but both escaped unharmed from the ugly-looking accident.
Belgian Grand Prix, F1 World Championship in Spa-Francorchamps:
1. Hamilton (Brit./Mercedes) 1:24:08,761
2. Bottas (Fin./Mercedes) -8.448
3. Verstappen (Niz./Red Bull) -15,455
4. Ricciardo (Austr./Renault ) -18,877
5. Ocon (Fr./Renault) -40,650
6. Albon (Thaj./Red Bull) -42,712
7. Norris (Brit./McLaren) -43,774
8. Gasly (Fr./Toro Rosso) -47.371
9. Stroll (Kan./Racing Point) -52,603
10. Pérez (Mex./Racing Point) -53,179.
Fastest lap: Ricciardo.
World standings (after 7 out of 17 races):
1. Hamilton 157 b.
2. Verstappen 110
3. Bottas 107
4. Albon 48
5. Leclerc (Mon./Ferrari) 45
6. Norris 45
Constructors' Cup:
1. Mercedes 254
2. Red Bull 158
3. McLaren 68
4. Racing Point 66
5. Ferrari 61
6. Renault 59
7. Alpha Tauri 20
8. Alfa Romeo 2
9. Haas 1
.