Jakarta, CNN Indonesia –
Pension Decision Lin Dan ensure the end of the fantastic four badminton 2000s era that also comprises Tactics of Life, Lee Chong Wei, dan Peter Gade.
In the 2000s, Lin Dan, Lee Chong Wei, Taufik, and Peter Gade were the stars in the men's singles number which made the number survive as the most prestigious number. The strong charisma of the four players made them an icon of competition in men's singles in that era.
Peter Gade is much older than the other three players because he was born in 1976. Peter Gade decided to hang the racket in 2012 when he was 36 years old.
In his career, Peter Gade won one silver and four bronze medals at the World Championship. Peter Gade also won the All England title.
Lee Chong Wei dan Peter Gade. (PARK JI-HWAN / AFP)
Taufik Hidayat, born in 1981 following his retirement in 2013. Taufik Hidayat retired with a record of winning Olympic gold, World Championship gold plus silver and bronze from the competition, and two Asian Games gold medals.
Lee Chong Wei and Lin Dan became the two remaining badminton players who decided to continue their career much longer than Peter Gade and Taufik.
Lee Chong Wei and Lin Dan even still became the top badminton player until the 2017 period. Lee Chong Wei entered the 2016 Olympics final while Lin Dan still won the 2017 World Championship silver.
Lee Chong Wei's desire to continue playing did not even subside when he developed nasopharyngeal cancer. While Lin Dan had stated that he was not interested in retiring as long as Lee Chong Wei had not yet retired.
Lee Chong Wei and Lin Dan were believed to be trying hard to be able to appear at the 2020 Olympics. But Lee Chong Wei then announced his retirement last year.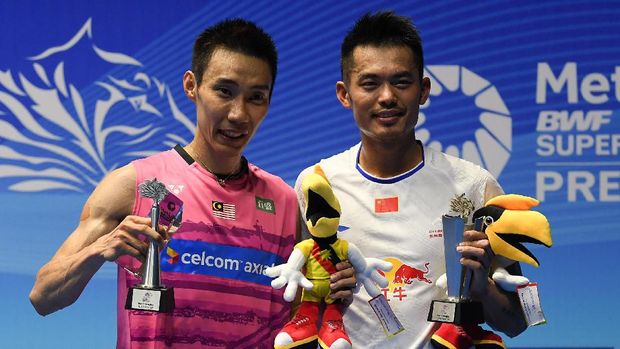 Lin Dan and Lee Chong Wei hung the racket far longer than Taufik and Peter Gade. (MOHD RASFAN / AFP)
Lee Chong Wei retired with the status of the tournament king because he was the player who collected the most titles on the BWF Tour. Lee Chong Wei collected three Olympic silver medals and three World Championship silver medals.
Lin Dan later became the last player of the 'fantastic four' who announced his retirement. Lin Dan became the most shining player in his generation with a record of five world titles and two Olympic gold. That added to the success of winning the Thomas Cup and the Sudirman Cup for China.
With Lin Dan's retirement decision, the golden era of the 2000s has ended. Now men's singles badminton will be filled with new competition enlivened by the presence of young players such as Kento Momota, Viktor Axelsen, Jonatan Christie, and Anthony Ginting.
(RTP / Nva)
[Gambas:Video CNN]
.