The world of tennis knows very well Stefanos Tsitsipas'Love of vlogging and all the efforts he puts into his YouTube channel. The talented tennis player, Tsitsipas also has an inclination towards the film profession in addition to his professional sports career.
Recently, he had a conversation with Barbara Schett, aka Babsi of Eurosport. He asked about his hobbies and Stefanos revealed his dream of making a film. One day he could do it with his vlogging skills. "It is my dream to make a film. I don't necessarily want to be the actor in the film. I would like to be the producer or screenwriter of the film. All I can do to give it my flavor " He said.
"
It wouldn't be a horror movie "- Stefanos Tsitsipas
The Greek boy is not very interested in horror films and does not like watching them very much. He doesn't even show any interest in producing them. Rather, he would have invested all his money in some science fiction and science fiction films.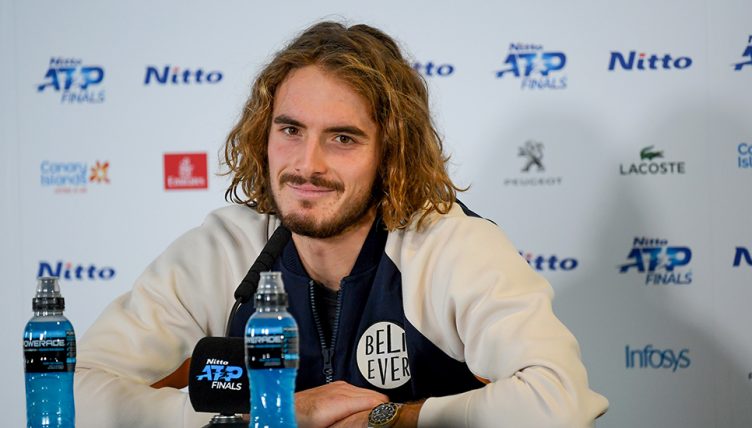 "It wouldn't be a horror movie, I don't like it. It would be either an action / adventure or a documentary covering stories from around the world. Maybe fantasy or science fiction or it could be a lifestyle", Tsitsipas added.
Read also – "It Felt Magical" – Stefanos Tsitsipas on Playing with Roger Federer and Rafael Nadal
Babsi kept asking him, who is his favorite director. And Tsitsipas seems to be fascinated by the man behind films such as The Descendants, Tomorrowland and Gravity, George Clooney.
He feels that there are numerous intact and untold stories in the world. They should be broadcast to the whole world. And the Greek professional thinks that movies are the best way to spread the word around the world.
"I really like George Clooney. I like some of his creations, and it was the producer of Gravity that I really liked. There are many films that I watch and I think I would like to create something like this. There are so many ideas out there that have not been expressed. " He added.
After the epic victory of Stefanos Tsitsipas a ATP finals 2019, in which he defeated Dominic Thiem in the finals of the marathon, he lost Milos Raonic to the Australian Open 2020. Subsequently, he successfully defended his title in Marseille. And also his finalist position at the ATP 500 Dubai.